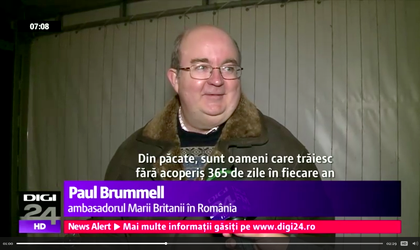 Last night, British ambassador Paul Brummell as well as USR president, Nicusor Dan, were among the 25 volunteers who spent their night outside for a sleepover in order to raise awareness for those who are homeless, notes Digi 24. The event was organised by Casa Ioana Association, a domestic abuse and family homelessness charity working in Bucharest, Romania.
Unfortunately, the temperature was quite low and the rain didn't stop until morning, so the volunteers improvised a tent for the sleepover. Moreover, they arranged the pieces of cardboard, mattresses, sleeping pad and sleeping bags, recognizing that their conditions were much better than those who experience homelessness.
According to the official data presented by the activists, the authorities don't know for sure how many persons are in this situation in Bucharest, so they estimated the number between 2000-5000. The sleeping bags used for this event will be donated to homeless people.
Casa Ioana Association notes that "social exclusion is the consequence of a series of problems affecting an individual such as unemployment, discrimination, poor skills, low income, poor housing or lack of housing, ill health and family breakdown. When such problems combine, they can create a vicious cycle leading to the loss of one's home."
Oana Vasiliu