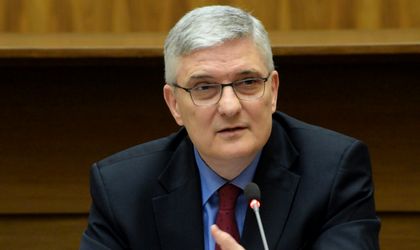 The exchange rate RON/EUR went up by almost one percent since the market opening, as a reaction to the UK vote, where British people voted for exiting the European Union, according to Agerpres.
 At 9:08, the exchange rate in Bucharest was 4.55/4.5520 and at some point it reached 4.5650 RON/EUR.
Daniel Daianu, member of Administration Council of BNR declared on Friday that the results of the referendum from UK is a "point of inflection".
"It is an inflection point. The implications are not only economic, but also geopolitical. The UK is not only a great economy, with a global financial center, but also it has a key role in the security policy. We will see how it will be with UK, if it will remain united, "says Daianu.
Regarding Romania, Daianu doesn't think that the exit of UK means the fall of European project. "Romania has to be firstly part of EU project, " he says.
He also added that BNR will act in such a way to attenuate the RON/EUR volatility, as BNR has considerable reserves. Daianu thinks that the problem is "home, as even if we have a public debt of 40 percent, we have an external debt of 55 percent from GDP, although we will finish with a budget deficit consolidated, we have a big budget fall because there were measures of fiscal easing."
"The budget project has to be well considered for 2017 to avoid a fall. The things are already breaking in Europe, " added Daianu.
Georgiana Bendre