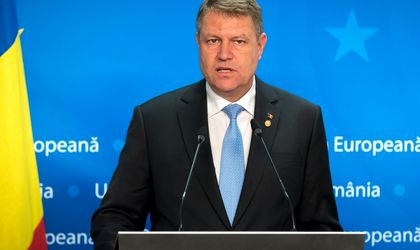 According to President Klaus Iohannis, UK's exit from the European Union will not have a negative impact on the Romanian economy. Iohannis spoke on the topic at a Cotroceni Palace meeting he called in the aftermath of the UK referendum.
The meeting, which started at 11:00, is attended by PM Dacian Ciolos, Governor of the National Bank of Romania (BNR) Mugur Isarescu and several leaders of political parties. "I believe the exceptional situation we are in now, due to the result of the UK referendum vote to leave the European Union, calls for this type of meeting in order to harmonize our views, to think what to do," Iohannis said at the meeting.
According to the Romanian president, Brexit will not have a negative impact on the country's economy. "Following talks with Mr. governor I gather there are no reasons for concern regarding Romanian economy and for Romania's finances," Iohannis stated.
Another topic discussed during the meeting refers to Romania's position in the new European Union. "I understood that everyone fully agrees that Romania should continue on the European path," Iohannis said at the meeting.
Alongside several officials, the meeting at Cotroceni Palace is attended by National Liberal Party (PNL) co-chairs Alina Gorghiu and Vasile Blaga, Social Democratic Party (PSD) leader Liviu Dragnea, National Union for the Progress of Romania (UNPR) head Valeriu Steriu and Alliance of Liberals and Democrats (ALDE) co-chair Daniel Constantin.
PM Dacian Ciolos is to hold a meeting with Vice Prime Ministers Vasile Dincu and Costin Borc, Foreign Minister Lazar Comanescu at the Victoria Palace. Secretary of State for European Affairs Cristian Badescu as well as the Chief of the Prime Minister's Chancellery Dragos Tudorache will also attend the meeting.
According to the final results, the Brexit camp won with 52 percent of votes. The turnout of the June 23 referendum was 72.16 percent.
Georgeta Gheorghe