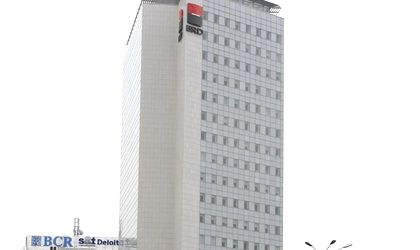 BRD Groupe Societe Generale registered last year a loss of RON 300 million (EUR 67.3), as it was hit by a 61.6 percent surge in cost risk to RON 1.9 billion (EUR 426 million) and a weak economy. The lender posted a RON 469 (around EUR 105 million) million profit in the previous year.
The lender's operating revenue fell by 6.5 percent year-on-year to RON 2.9 billion (EUR 650 million) and expenses dropped by 2.4 percent to RON 1.3 billion (EUR 291). The cost to income ratio stood at 46.5 percent.
BRD's net banking income fell by 6.1 percent to RON 2.9 billion EUR 650 million) due to a fall in the interest income.
The net interest income lost 10.6 percent to RON 1.85 billion (EUR 403 million), while the net commission income added 2.8 percent to RON 773 million (EUR 173 million). The bank closed 22 branches last year to 915 units and cut personnel expenses by 5 percent to RON 635 million (EUR 142.5 million) as 261 jobs were slashed.
"Our financial performance was impacted last year by the growing risk cost in a difficult environment," stated Philippe Lhotte, president and general director of BRD. He added the lender will focus on risk containment procedures, aiming to improve operational efficiency.
BRD lending adds 2.5 percent
BRD grew the loan book by 2.5 percent to RON 34.8 billion (EUR 7.8 billion). Retail lending added 2.5 percent sustained by the Prima Casa mortgage scheme and saw the same figure growth in the corporate sector, due to higher financing of large corporate. Lending in the domestic currency for companies rose by 6 percent.
Lending activity targeting SMEs and large corporates rose by 0.4 percent and 6.8 percent to RON 11.7 billion (EUR 2.6 billion) and RON 6.2 billion (EUR 1.4 billion) respectively. Consumer credits lost 8.3 percent to RON 10.7 billion (EUR 2.4 billion), while mortgage loans added 28.4 percent to RON 6.2 billion (EUR 1.4). Lhotte said the non-performing loans (NPL) stood at 21.3 percent last year, mainly generated by the corporate sector. NPL provisioning was hiked to 51.9 percent.
The bank fraud scandals that rocked the Romanian banking system in late 2012 ran a total loss of EUR 180 million for BRD, according to Lhotte.
The loan to deposit ratio fell by 4.9 percentage points to 98.7 percent. BRD said it focuses on stable deposits in preparation for the roll out of Basel 3 regulation and has increased the deposit share in its debt to 75 percent.
BRD said it holds a 14.6 percent market share in lending and 14.7 percent in deposits.
The solvency indicator and core Tier 1 capital ratio fell by 1 percentage point each to 13.9 percent. Its assets decreased by 1.6 percent RON 48 billion (EUR 10.7 billion). Its return of assets fell by 1.7 percentage points to a negative 0.7 percent.
Ovidiu Posirca