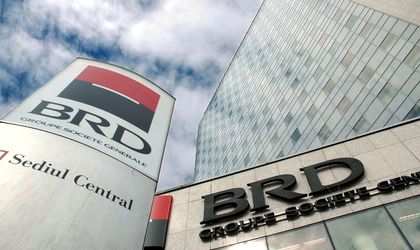 BRD – Groupe Societe Generale, the third largest lender in Romania by assets, recorded a 28 percent increase of its net profit to RON 392 million (around EUR 84 million) in the first quarter of 2018 versus the same period of last year, according to a statement submitted to the Bucharest Stock Exchange (BVB).
The banking income was up by 13.2 percent to RON 680 million (EUR 145 million) in the same period, while BRD's assets were up by 8.7 percent to RON 54 billion (approximately EUR 11.5 billion).
At group level, including BRD – Groupe Societe Generale, BRD Sogelease, BRD Finance IFS and BRD Asset Management, the net profit grew by 26 percent to RON 414 million (EUR 88.7 million) on the back of an increase in revenues and the reduction of costs.
"The first quarter of 2018 was very dynamic, which is seen in the continuous growth of loans, deposits and trading volumes and together with the favorable interest rate environment, led to a two-digit growth of the net banking income," said Francois Bloch, the CEO of BRD – Groupe Societe Generale.
The net interest income was up 14.2 percent, while the net income from commissions rose by 5.2 percent.
The bank's volume of loans grew by 5 percent to RON 30.4 billion, while deposits gained 7 percent to RON 44.3 billion. BRD has recorded an expansion of 7.8 percent in the retail loan portfolio, while the non-retail segment grew slightly by 0.9 percent year-on-year. The bank said that the loan volumes granted to large corporate clients grew by 6.9 percent, plugging the gap caused by a drop of lending volumes to SMEs.
The rate of non-performing loans stood at 6.2 percent at the end of March 2018 compared to 10.3 percent in the same period of last year. The loan-to-deposit ratio stood at 65.5 percent.
BRD said it has 1.44 million retail customers using its internet and mobile banking services, out of 2.18 million retail customers in total.
The bank's network of branches continued to shrink to 753 units compared to 810 units in March 2017.