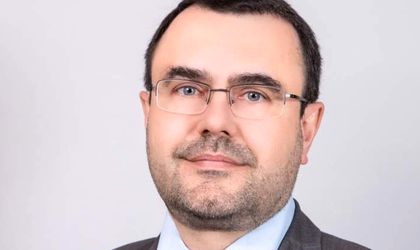 BRD-Groupe Societe Generale posted RON 763 million net profit in 2016, up by 63 percent year-on-year. The company, which presented its financial results a press conference on Thursday, said the net profit growth was based on bigger revenues, a strict cost control and a smaller net cost of risk.
The bank's net income went up by 7.0 percent, on the back of an improvement of net revenues from interests (+4.6 percent year-on-year), bigger revenues from commissions (+3.1 percent year-on-year) and the revenues brought by the VISA Europe transaction, recorded in the second quarter.
Last year, the operational expenses were quasi stable, based on maintaining a disciplined control of costs. Specifically, the ratio cost/income stood at 50.0 percent, 3.4 smaller compared to 31 December 2015.
The net cost of risk was smaller, RON 484 million, – 26.5 percent year-on-year, and the risk profile saw an improvement, due to the continuous drop in the number of non performing loans (10.5 percent on 31 December 2016, compared to 13.3 percent on 31 December 2015), as well as due to the increase in the coverage rate with provisions of non performing loans (76.6 percent compared to 69.3 percent on 31 December 2015).
The bank's commercial activity was dynamic, with an increase of 37,000 active private clients recorded in 2016, and a reported +11.2 percent year-on-year increase in the production of loans for individuals and a growing portfolio on the corporate segment.
In 2016, loans given to individuals increased by 4.5 percent, on the back of mortgages and consumer credits in the national currency. The government program Prima Casa, which encourages the purchase of properties by first time buyers, represented in 2016 a key factor in the advance recorded by mortgage loans. The companies' loaning activity remained modest, despite a favorable economic environment, the stock of gross loans decreased by – 1.7 percent, being significantly influenced by the portfolio clean up. The deposit dynamics was positive in 2016, (+7.3 percent year-on-year), due to savings by private clients.
The bank's number of active private clients stood at 2.15 million, and the number of banking products per client increased, from 3.95 on 31 december 2015 to 4.07 on 31 December 2016. The clients' interest for digital banking solutions is continuously growing. The stock of internet contracts and mobile banking reached 1.15 million of contracts on 31 December 2016, +29.6 percent compared to 31 December 2015, with a strong increase of the number of mobile banking contracts (+62.8 percent on 31 December 2015).
Loaning for large corporate clients went up by 6.6 percent, compared to 31 December 2015.
The net banking income of the BRD Group stood at RON 2.778 million in 2016, up by 7.0 percent compared to 2015.
"2016 was marked by a solid performance at the level of BRD Group, net income substantially bigger than in 2015, enjoying a strong commercial activity on the private clients segment, a better operational performance and the significant improvement of the risk profile," Francois Bloch, BRD CEO said. "My vision for BRD in the years to come is to keep the clients at the center and to care about the client. Having the proper range of products will allow us not only to increase our profit, but also to build relationships. We do not think about this year's profit only. Ntext, we must improve customer experience. Then, we need to simplify our process, cope with intense regulation and we need to continue to innovate. We can speak about call centers, ATMs, and other initiatives that will be rolled out in the future," the newly appointed BRD head said at a press conference.
Georgeta Gheorghe