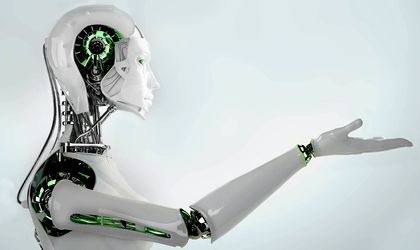 In a not too distant future, the appliances in our homes could communicate without human intervention, workers might wear costumes that give them special abilities for their jobs and drones could largely take over package delivery. Telemedicine could give a new meaning to the term "doctor's visit" and augmented reality may come to replace things that today we can't do without, like the mobile phone.
By Otilia Haraga
"In a not too distant future, we could go for a walk wearing smart clothes and sit in the shadow of smart trees where we could recharge our batteries (literally), and spend our time having smart conversations with robots," Victor Voicu, manager of the product management business segment at Telekom Romania, tells BR.
Having a conversation with a robot? Why not? Such an android has already been created. In the past, robots that acted and thought like people were the subject of many science-fiction movies, from Terminator, where robots rule the world, to Her, where the protagonist falls in love with an operating system.
But people are not the only ones who can have conversations with robots. Our home appliances will be communicating among themselves without human intervention. Machines will be controlled from a distance on a large scale to make our food, wash our clothes or control our home environment.
"By the end of 2020, it is estimated that more than 200 billion devices (cars, refrigerators, web cameras or smart TVs) will be connected to the internet," says Voicu.
Deliveries are another field that will most likely be revolutionized by technology. Since Amazon revealed its Prime Air drone-based delivery system, this future has started to take shape. Competition will not cease, so in the future, people could get their ordered package in just a few minutes. Pizza delivery by drones? Today this no longer seems such a far-fetched concept.
But one of the most important ways in which technology will make an impact on the quality of people's lives is through telemedicine.
"Telemedicine helps in reducing morbidity and mortality rates and patients who are monitored through such solutions live 15-55 percent longer than those who receive conventional care. Telemedicine improves the health system overall, facilitating access to care for a high number of patients," says Voicu.
He adds that the consistent use of telemedicine solutions by certain groups of the population and participation in special programs where members use fewer resources for medical care cuts the hospitalization rate by 30-50 percent, and the duration of hospital stays by 24-48 percent.
But any silver lining comes with its cloud. In the case of our growing reliance on technology, this takes the form of privacy challenges and billions of cyber-attacks. "By the end of 2016, there will be an estimated half a million informatic attacks every minute," predicts Voicu.
Similarly, threats targeting mobile phones are also growing at a fast pace: surveys show a 263 percent growth in malware on the mobile over the past 12 months, he adds. "To avoid security problems in the Internet-of-Things area, it is advisable to set strong access patterns, use encrypted communication and to permanently run updates, the same as for any computer," urges Voicu.
However, he believes that if used responsibly, technology will not produce negative effects. "On the contrary, it is a tool with which we can protect our bodies and our lives in general. There are numerous mobile applications that measure our heart rate, how many calories we have consumed, how many glasses of water we have drunk, and alert us if we exceed a certain limit – and the list could go on forever, especially since every day new ones are being launched," says Voicu.