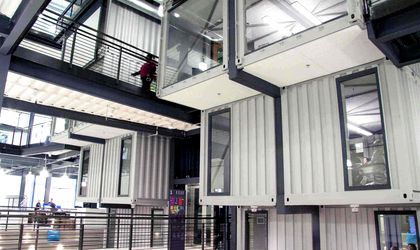 In ten years' time, we will most likely spend less time at the office, albeit not necessarily because we'll actually be working less. Back home, meanwhile, life is set to become greener and smarter.
Simona Bazavan
Sending in a report from a café or working from a remote beach as a digital nomad is more possible today than ever before thanks to technology. In fact, remote working is a growing trend that will strongly shape the way offices look and function over the next decade, experts predict. US software giant Citrix forecasts that as early as 2020, 70 percent of employees could work away from the office as often as they do at their desk.
Does this mean that offices are on the way to becoming obsolete? By no means, or at least not over the next decade, that is. Experts forecast that offices are here to stay, despite technological gimmicks that enable us to stay connected and work remotely more than ever before. One reason for this is that face-to-face interaction remains vital to boost performance in the knowledge economy, according to a Harvard Business Review report. Moreover, physical closeness even boosts virtual communication, other studies have found.
What will change in the next ten years is that offices will transform into something altogether different from today's cubicles, meeting rooms and conventional workstations. As the way of working itself changes, offices too are being turned into places of collaboration and connection, HR managers and real estate industry representatives say. Hot-desking or shared desks, moveable desks that can be used for individual work or can be rearranged like puzzle pieces to host a meeting, and entire multi-purpose work areas underscore this ongoing shift. There is also good reason to believe that going to the office in ten years' time will also be more fun. In some countries employees are already allowed to bring their pets to work, while others can relax in game rooms, music rooms or even enjoy massages at work – trends that appear likely to spread.
Back on the local market, some of these trends are already shaping the office scene. Technology companies, in particular, are at the forefront of transforming the conventional workspace into something considerably different. Featuring recreational spaces such as gaming or lecture rooms is becoming increasingly common among large BPO offices in Bucharest. More subtle changes are also underway. Hot-desking has been happening locally for over three years and is now the modus operandi of several companies in the capital. Overall, local tenants are transforming offices to suit their way of doing business and their company values and identity. The result is ever more customized and adaptable spaces that also serve to boost employees' wellbeing and job satisfaction.
Organizations' focus on the latter is also one of the main reasons behind the growing "green" trend in office and residential buildings alike. So far the only residential projects on the local market that brandish green technologies are high-end developments, but industry representatives say this will slowly but surely extend to mass housing units as well in the future. The driving force behind this is that, for many potential homebuyers, the desire to have a modern home with a healthy and comfortable living environment goes hand in hand with the requirement that it also has low running and maintenance costs. As incomes go up and competition among developers intensifies, modern and energy-efficient housing will become affordable for more and more people.
Looking at what is already shaping up on more mature and advanced markets elsewhere in Europe, there is an increasing focus on developing sustainable residential projects that are good for both the inhabitants and the surrounding environment. This will be particularly challenging in Romania where the existing housing stock is old and in dire need of upgrades, but perhaps the introduction of innovative technologies on the new residential segment will generate enough momentum to bring about more profound changes.