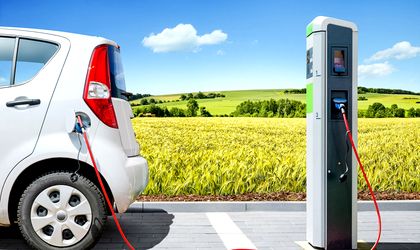 You just got on your smartphone and ordered an electric car to pick you up from home so you can get to the office in central Bucharest for a brief meeting. During the ride, you catch up with the latest news, check some figures on a spreadsheet and talk to your friend who's charging a vehicle at one of the stations that have popped up around the city.
Ovidiu Posirca
Everything seems quieter, you see more people than cars on the street and some of the old car parks in central Bucharest have been turned into green areas.
This could be Bucharest in the next ten years if the pace of development in the global automotive and tech sectors continues to ride the wave of deeper software integration in all things surrounding us that could ultimately help us become more productive. It could also prove to be cheaper to ride-share or take a self-driving car than actually own one.
This is just one of the scenarios for how the automotive sector might change dramatically in order to attract future consumers, who will be more digitally integrated than ever.
Professional services firm Deloitte predicted in a report focusing on the US market, which can be applied in other advanced economies, that there are four directions in which the car industry might go, depending on the ownership and efficiency of vehicles.
Change might be slower than expected if the current global producers of cars set the trend so that the ownership model of vehicles by consumers remains the norm. Then there is the scenario of becoming a car sharing world in which tech companies such as Uber and Lyft will thrive, as consumers consider the service to be more economical and convenient, especially for point-to-point journeys.
We might also be looking at a future in which driverless technologies gain ground and users feel more confident to take advantage of them. This will mean that motorists will still own more technically advanced cars that will communicate more between themselves and allow the driver to do something else. This could usher in a new trend called the internet of cars.
Or, we might in fact witness a real revolution in which the autonomous and vehicle-sharing trends converge and the consumer might simply enjoy the infotainment  while he or she is conveyed to the destination, in cities beefed up with smart technologies.
Turning to the finances, if the future of the automotive industry is controlled by today's giant car makers, the cost per mile will amount to USD 0.97, according to Deloitte. If the accessible autonomy is the future, this figure will drop to USD 0.31 per mile. If the cost-cutting is scalable, it would provide a boost for large transport and delivery firms, which struggle to find drivers, and whose schedules are tightly regulated. We might end up seeing freight being transported faster and without major interruptions. The public transit system will also improve its services and reduce the amount of pollution in cities.
Then, there is also the impact that the adoption of more efficient vehicles will have on oil producers. According to a projection by Goldman Sachs, 25 percent of cars sold will have electric engines by 2025, up from 5 percent today. Most of those will be hybrids and will be fitted with batteries but still rely to a lesser extent on fossil fuels for their power.
Some 1.2 million electric cars were on the road in 2015, up from 6,000 six years before. Currently, analysts predict that the costs of electric cars and vehicles using fossil fuels will reach parity in the first part of the first decade.