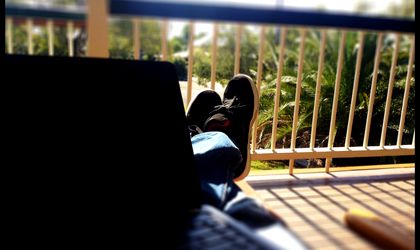 Organizations must adjust their corporate culture and strategy to cater to the new needs of employees of the future, who will value flexibility, mobility and a friendly working environment, pundits tell BR.
 Anda Sebesi
Think of the next ten years of your career and imagine working from home while taking care of your three-year-old. Informing your employer that you won't be at the office that day will no longer be necessary. It might seem like something out of a movie, but considering that both worldwide and in Romania outsourcing projects to collaborators has become usual practice, it is likely that this will be the norm in the future.
This change will result in organizational cultures based on responsibility and integrity in improving performance, simple and friendly processes that encourage autonomy and decision making for managers. "I think that the idea of the traditional office will never fade, but it will transform so employees will gravitate around a hub. The space will be used for projects that involve a lot of teamwork and brainstorming," says Ruxandra Gheorghe, chief of the strategy, payment and organizational design HR department at BCR.
The working-from-home model has economic reasons and is based on seeing employees as individuals with different simultaneous roles and needs. Given this, it will be interesting in the future to see to what extent the current legal framework that governs the world of work will keep up with employees' needs and the changes that will need to be made, pundits say.
But what will the employee of the future look like on the medium term? "The labor market in 2020 will be made up of five generations that will co-exist at the same workplace, from the Silent Generation to Generation Z," says Anca Moldoveanu, sales HR director at NN Asigurari de Viata. In her opinion, the mix of generations could mean that employees of the future, regardless of their generation, will know how to capitalize on the different behaviors of their colleagues to build things together. "It will no longer be about the so-called generation gap. Instead, it will be about the way a multi-generational team will generate behaviors that connect us in our professional life," says Moldoveanu. She adds that it is likely that Generation Z will act as a bond between generations or as a factor that will reduce or even ease away the current differences between generations.
Technology will continue to play a significant role in connecting people at work, but in the next decade employees will develop systemic thinking based on the idea that "we are all part of the same whole". The employees of the future will have an ongoing interest in macro causes from both the social and economic fields. "We will see employees interested in work-life balance who will choose to work for employers that will have a mission of business and social responsibility similar to their personal values and mission," says the representative of the insurer.
The employee of the future will be focused on continuous personal development and will be extremely mobile and results oriented. "They will offer and demand in return a high quality of services while penalizing the lack of them," says Gheorghe of BCR. She adds that the benefits will evolve along with the labor market, from those that meet basic needs to more sophisticated packages focused on a range of services facilitated by the employer and customized for each employee. Flexible working time, advice when buying a new house, preventive medical services, family/couples counseling, and ongoing personal and professional development courses are among the benefits that will count in the eyes of the employees of the future, pundits say.
Firms will also need to adopt a different and proactive approach in their relationship with their employees. As Moldoveanu of NN Asigurari de Viata says, a constructive organizational culture focused on cooperation and development will become compulsory for employers in the future. "Companies will become more attentive to the needs of their employees, offering them more and more diversified long-term benefits that will secure their involvement and commitment to invest in their teams, like private pensions, health insurance, kindergartens at work or back-up care at home," adds the representative of the insurer.
On the other hand, employers will need to adjust their operational and performance management systems in order to encourage their employees' independence, making and taking responsibility for decisions, reducing control and promoting management through objectives. "The employee-employer relationship will be focused on trust, assigning clear objectives and effective processes to keep the control minimal," adds Gheorghe of BCR.
While the current business models focus on customers, in the future organizations will likely focus on the individual, in all of his or her aspects: from employer or customer to member of the family or community. "Employers will need to understand the major needs and interests of their employees and create the context where they can satisfy as many of them as possible," says Moldoveanu.
How will the company of the future look?
The company of the future lacks a clear hierarchy, but is organized similar to a social network. A small core of its own employees will be supported by external collaborators working from all over the world. Many of the tasks will be outsourced. So we won't see halls full of people starring at monitors, but ecosystems of permanent and temporary employees, external contributors hired ad hoc and freelancers working for the company on a regular basis.
Some of these people will have a desk at the company office, some will work from home and others from the other side of the world. In the near future intellectual work will increasingly be outsourced to high-technology centers. The crowd will become even more influential in the future and companies will reflect this by motivating their customers to engage, offering them more participation in decision making and possible rewards for their involvement. Managers in leading positions will have to learn to manage diverse teams spread across various time zones around the globe. It will be a major challenge for companies to make sure employees and collaborators feel comfortable working for them.
The organizations of the future will require that leaders be trained to be leaders. The real challenge is to develop those personal skills consciously – leading the change, innovation and creativity, working in a team, having the ability to apply knowledge to decision-making and communicating.
The leaders of tomorrow will know their roles, they will stop to take a fresh look at their goals before going after them, and they will count on their team and surround themselves with the most capable people to achieve the goal.
At present most organizations are based on vertical structures where not everyone can cooperate in the same way. The trend is to gradually implement a more horizontal model, based on collaboration, say pundits. With the development of new information technologies, especially on the internet, collective intelligence will become stronger and stronger.
The leadership of tomorrow will become increasingly aimed at the enhancement of that collective intelligence. It will be in the leader's hands to prevent the group from being just a "mass" and, on the contrary, to make it behave efficiently and intelligently. More people will be involved in the decision-making processes and leadership will encourage that change.