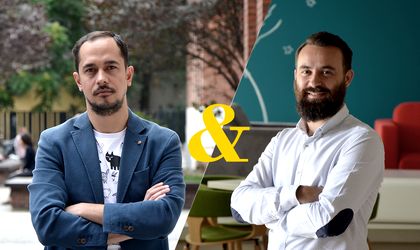 In the recent months, MullenLowe Romania consolidated the creative and strategy department, bringing on-board Eugen Suman as executive creative director and Adrian Chiuhan as head of strategy, both of them with extensive experience in the advertising market. BR met with them and talked about their plans and actions for the agency.
Romanita Oprea
How did you receive the offer from MullenLowe and what made you decide to take it?
Eugen: Well, I can tell you for sure that I wasn't looking for a job. But MullenLowe had other plans, so one evening I received a call from Hortensia Nastase (vice president Lowe Group – e.n.), to meet and see if there was something there. I said "sure, but keep in mind I'm not looking for a job". The first meeting was great, the second was great as well – common ambitions, common goals, incredibly interesting challenge, big agency. The other meetings with people from higher management were just as good. One thing was clear, we had chemistry. Long story short, I said yes.
Adrian: I got a call from a friend who told me that MullenLowe was looking for a head of strategy. Few days later I met Hortensia and had an interesting discussion about what MullenLowe was looking for, what were their plans for the next future. MullenLowe was very much what I was looking for – a big agency, ambitious objectives and a position where I can make the best work of my career. We had chemistry from the first meeting and each step of the recruiting process convinced me that is the place to be. I accepted it.
What were the first decisions you took after taking the job?
Eugen: The very first decision was to implement a weekly creative meeting every Friday. The second was to start evaluating the people in the department.
Adrian: To work and lead through example.
What changes did you make in your department?
Eugen: I'd like to think I brought a bit more ambition in the department, that I made people more interested in helping me get the agency in the spotlight. There were other operational changes as well – in the way we work with account management, the way we work with the other agencies in the group.
Adrian: I tried to help people have a vision about what planning is and what it can be in an agency, structuring the working flow and making people see the potential in every project.
What are your main goals in this position?
Eugen: The main goals of the position are, as everywhere else in the industry: make great work, win new business, and attract top talent.
Adrian: Gain more business for the agency, help clients get better results, develop a better strategic product = efficient campaigns, develop the strategy department, grow people and help them get to the next level.
What are the main qualities and decisions that you will take together and you believe will make a great connection between the departments you run?
Eugen: I knew Adrian as a friend before I knew him as a colleague and a professional, so I was very happy to have found him here. I try to help him write briefs that will inspire creatives, so that we both make sure that what they receive is something they'll enjoy working on.
Adrian: We both have a lot of experience and we both feel that we can count on each other in every situation. This means that we discuss every aspect of the day to day work, challenge each other on every brief and try to make the best of every project we have.
If you were to describe where do you want see your departments in 2 years' time what would you say?
Eugen: Faster, bigger, better, better known.
Adrian: A reliable partner for our clients, bringing added value on every project, a strong team which inspires the best creative work.
What did you know about the agency and it proved to be wrong? What about the true info?
Eugen: The only question in my mind was why the agency wasn't winning more international awards, and I thought that maybe it had something to do with the culture. I found a strong culture here, so it's just a matter of time before the industry starts noticing more of what we do here. We had a great start at Internetics this year where we won 8 awards with the agencies in the group, placing us right up there with the top players.
Adrian: I find everything exactly as I was told by the people I asked and by the people I met in the recruiting process – no surprises here. One thing was surprising for me and I'm glad that it exceeded my expectations: I expected a cool management team and it proved to be more than cool, the best team ever. 😀
What does creativity mean to you?
Eugen: Creativity is solving problems with limited means. I think you won't find a simpler definition anywhere else.
Adrian: Having "never-thought-before" solutions to business problems.
Do you have any mentors in your career? If so, who are they and why did you choose them?
Eugen: I will name here the four people that have taught me tremendously when I was just starting: Dorin Boerescu, Razvan Exarhu, Claudiu Dobrita and Mihai Gongu. All of them were my creative directors, and I've learned from each and every one.
Adrian: I have a few – Razvan Matasel, Emilian Arsenoaiei, Laurentiu Semeniuc, Elena Ionita, Ioana Gheorghita, Victor Stroe, Stefan Stroe. All of them influenced my way of thinking and the way I see the world around me.
Where do you find inspiration and what do you do when you have a tight deadline and you cannot find it?
Eugen: Other people, fiction and nonfiction, films and TV shows, music, my wonderfully creative wife. When it comes to deadlines, I think inspiration comes through hard work. I don't believe in inspiration that strikes suddenly while you're busy doing other things.
Adrian: "I fake it till I make it" (joke). I talk to people, read more, force my brain to deliver, ask for more time.
Main passions outside work.
Eugen: Reading, video games, comic novels and writing.
Adrian: Fly fishing and motorcycling.