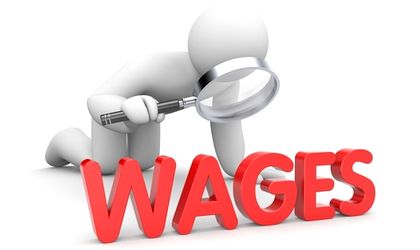 The earnings of employees in Covasna county (Eastern Transylvania) rose by 33.9 percent between January 2017 and January 2018, the highest pace in Romania, while wages in Bucharest and its neighboring Ilfov county increased only marginally during the same period, losing purchasing power, regional statistics of the National institute of Statistics (INS) show.
The highest wage growth rates over the last 12 months were recorded Covasna (+33.9 percent), Braila (+24 percent), Ialomita (+22.5 percent), Salaj (21.4 percent) and Giurgiu (+20.6 percent), according to calculations by Business Review.
On the other hand, the lowest growth rates for earnings were registered, during the same period, in Bucharest (+1.2 percent), Ilfov (+1.7 percent), Mures (+4.3 percent), Brasov (+6.4 percent), Sibiu and Caras-Severin (both +8.2 percent).
The highest net monthly earnings of employees were recorded in Bucharest (RON 3,228, EUR 694 in January), Cluj (RON 2,750, EUR 591), Ilfov (RON 2,682, EUR 577), Timis (RON 2,604, EUR 560), Sibiu (RON 2,516 , EUR 541),  Iasi (RON 2,453, EUR 528) and Brasov (RON 2,384, EUR 513), all the other counties in Romania posting average net wages below EUR 500.
These numbers show that high wages are concentrated in only five areas of Romania: the Capital city and its surroundings (Bucharest-Ilfov), the three major regional centers from Transylvania, Banat and Moldova provinces (Cluj, Timisoara and Iasi) and Southern Transylvania (the highly urbanized and industrialized counties of Sibiu and Brasov).
At the opposite end, in 11 out of the 42 counties of Romania (including Bucharest), net monthly average earnings are still below RON 2,000 (EUR 430): Neamt (EUR 415), Caras-Severin (EUR 416), Suceava (EUR 416), Botosani (EUR 419), Harghita (EUR 421), Vrancea (EUR 424), Valcea (EUR 425), Vaslui (EUR 426), Buzau (EUR 428), Teleorman (EUR 429) and Hunedoara (EUR 430).
In January, the inflation rate rose to 4.3 percent year-on-year, generating a decline of  purchasing power for employees in Bucharest and Ilfov, where around one in four Romanian employees worked.
At the national level, the average net monthly earnings in Romania grew by 8 percent year-on-year in January, to RON 2,484 (EUR 534), National Institute of Statistics (INS) data showed.
But real wages increased by only 3.5 percent during the same period, due to high inflation rate.
Compared to December 2017, earnings fell 5.5 percent, due to base effect. In December, Romania posted record average net monthly earnings of RON 2,629 (EUR 567), due to granting of year-end bonuses.
The average gross monthly earnings surged to RON 4,143 (EUR 891) in January, up from RON 3,662 (EUR 790) in December, but only as an effect of legislative changes.
Since the beginning of this year, the social security contribution and the social health insurance contribution paid by the employer were transferred to the employee in Romania, and the effect was a sudden surge of the gross wages in January.
But more than 44 percent of the Romania's employees received the national minimum wage in March, compared with 37 percent in 2017, according to official data obtained by Business Review.
Unions say this evolution is a consequence of government's lack of interest for an equitable distribution of benefits of economic growth.
In January, the highest net monthly earnings were recorded in IT sector (RON 6,120, EUR 1,316) and airline transport (RON 5,103, EUR 1,097) and the lowest in accommodation and food service activities (RON 1,494, EUR 321).
Romania has the second lowest average wage among the European Union member states, after Bulgaria.
Photo credit: dreamstime.com