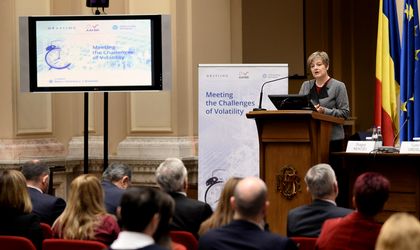 Trade war is a widely used concept lately, after US president Donald Trump decided to enforce new tariffs on Chinese imports. While it remains to see how the friction between US and China will affect the European Union, we have others issues to take care of, like Brexit and all its implications.
By Aurel Dragan
Rachel Lomax, former deputy governor of the Bank of England and former member of the board of directors at HSBC told Business Review that we will not see a trade war between the UK and EU.
"We still have a lot to talk about the trade framework and I'm guessing that a lot will be left after we have actually left. But I don't think there will be a trade war. There is so much common interest in maintaining close ties and in staying friends", said Lomax.
Also, the ex-BoE official doesn't see a big migration of companies from UK to Europe, despite the decision taken by Unilever few days ago to move its HQ to the Dutch city of Rotterdam.
"Unilever's decision to move its headquarters from UK to The Netherlands was not such a big surprise, being an Anglo-Dutch company. The takeover rules were important in that decision as well. It is a disappointment? Yes. But it is a complete surprise? No."
"I don't think there will be many companies to move entirely out of UK. For example, HSBC, where I was in the board, decided to stay in London, but it has a French bank and a German bank so it can operate perfectly well through them."
But the financial sector may still go through significant changes, especially The City in London, the biggest financial cluster in Europe. "It is bound to change. I mean, the way that banks are operating will have to change, instead of using branches they will have to use subsidiaries and it will have to deal as a third country.  But London is important for continental Europe so it is a mutual interest there as well", said the former vice governor.
From her perspective, The City will not have a real competitor very soon.
"I know the German government wants to grow Frankfurt into a rival for London City and that it is normal. I mean because the ECB is there, so it is a natural tendency to cluster a bit, but that is a very different situation from London, which has got so many different kinds of financial activities."
Economy is well on track, but the risk is still high
The global economy has recovered from the last crisis and it is growing by a pace of 4 percent every year. But there are regions that have not recovered as well as other and that means that there is still work to do, according to Lomax.
"The recovery was sustained by monetary policy in most of the countries, and we still have very low interest rates in USA, UK, EU and China", she said, pointing out that things will not change rapidly due to the risks involved, especially from volatility.
That means the central banks governors will not take steps that can enhance the volatility, so they will keep the interest rate to a lower level for the medium term. Another reason for keeping the interest rates low is inflation, which is surprisingly stable at low levels. The change will come slowly; Mario Draghi, European Central Bank governor, will end his mandate next year, so the next head of ECB will be the one who decides the pace of change.
Lomax was in Bucharest as speaker at the "Meeting the Challenges of Volatility" conference,