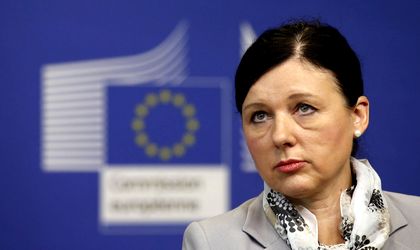 Commissioner Vera Jourová will be in Bucharest today and tomorrow, where she will meet Romanian president Klaus Iohannis, Justice minister Tudorel Toader, and Finance minister Eugen Teodorovici, according to her press representatives. Business Review exclusively announced her arrival in Romania at the beginning of the month.
The official schedule currently includes no meetings with Prime Minister Viorica Dancila.
According to Vera Jourova's press team, the main aim of the Justice Commissioner's visit is to exchange views on justice priorities under the incoming Romanian Presidency of the Council of the EU. "She will also touch upon developments in the justice system," her team states.
On Tuesday, she will open the Consumer Dialogue on the New Deal for Consumers. She will then meet with Marius Pârvu, President for National Authority for Consumer Protection, to discuss key consumer files, with Iulia-Cristina Tarcea, President of the High Court of Cassation and Justice (ICCJ), to discuss developments in the Romanian justice system and with Ancuța Gianina Opre, the President of National Supervisory Authority For Personal Data Processing.
Finally, she will give a speech at the opening session of the international round table on the situation of children left behind due to international mobility, organised by the President of Romania, Mr. Klaus Iohannis.
Last week, the European Commission published one of the toughest CVM reports for Romania, with eight strict recommendations. "While some steps have been taken to implement the final recommendations from January 2017, the developments over the last 12 months sadly have put into question and in some cases even reversed the progress made over the last 10 years", EU VP Frans Timmermans said, when reading the CVM report's conclusions.