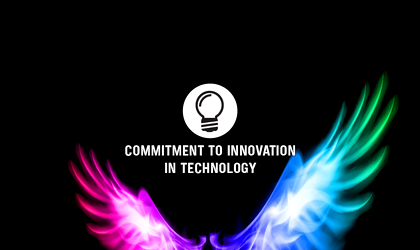 The BR Awards jury had its second meeting this week and is ready to announce the shortlisted nominees for the 11 award categories.
For the Commitment to Innovation Technology Categories, the nominees are:
ABB for National Centre for Direct and Assisted Training for Robotics. ABB opened its first robotics centre in Romania, ABB's National Centre for Direct and Assisted Training for Robotics, established through public-private partnership with the Polytechnic University in Bucharest, within the Faculty of Engineering and Management of Technological Systems, Machine and Manufacturing Systems Department (MSP). The fully equipped training center will serve ABB's customers, partner companies and the university students.
The center enables future engineers to benefit from advanced training in robotics and industrial automation via specific training modules consisting of a comprehensive study of ABB robots and their specific systems and applications, developed in collaboration with the university, which are already being integrated into the students' curricula.
UiPath for UiPath Platform. UiPath Platform, UiPath's main product, has been acknowledged as one of the most performant business process automation solutions on the market. It consists of UiPath Studio, UiPath Orchestrator, and UiPath Robot. The platform can automate any high-volume, business-rules-driven, repeatable process, being capable of mimicking many–if not most–human user actions. They log into applications, move files and folders, copy and paste data, fill in forms, extract structured and semi-structured data from documents, scrape browsers, and more.
It is the only RPA tool that applies AI in the Computer/Machine Vision field – solving a wide variety of problems including image recognition, object detection, and tracking. Also, it providing seamless automation of data entry on any web form & desktop application: browsers, emails, terminals, Excel, Word, PDFs, databases, Citrix and many more. An industry standard enterprise architecture enables UiPath products to seamlessly fit within global IT environments and comply with all security requirements. Also, by extending towards advanced models of intelligent automation enhanced with cognitive capabilities, companies deploying the UiPath Platform receive help in their transition towards AI.
Vodafone and OMV Petrom for NB-IoT. NB-IoT transforms enables for a wide range of devices that could not previously be connected to do so, making new data available to people and businesses that can benefit from it. The technology was developed to enable efficient communication and long battery life for mass distributed devices across wide geographical footprints and deep within urban infrastructure.
Main advantages of NB-IoT technology are: great power efficiency, so devices can run on batteries for 10 years or more without a charge, strong coverage over large areas, even when devices are underground or deep within buildings (gas meters, water meters, smoke and fire alarms and parking monitors), NB-IoT can increase signal coverage area by up to seven times compared to existing GSM technology, massive scale, connecting potentially millions of devices at once in a single deployment, low cost communications hardware, enabling data collection devices to be built cost effectively, low bandwidth, with most use cases requiring just a few bytes of data to be transmitted per device per day and a high level of security. It can be used in many industries, from smart metering to smart parking and smart homes.
SAP Romania for Bucharest Data Science and Machine Learning. Comprising 12 people, SAP Bucharest Data Science and Machine Learning team develops highly customized software solutions for specific business needs that are not met completely by the standardized offer of software solutions. It does so by executing the mathematical modeling of the customers' needs and developing algorithms and applications that address them. The team's clients are companies around the world and the teams efforts have a global impact. There are only 3 such teams within SAP, the other 2 are located in the US and Germany, however, they handle mainly projects for the local markets.
DB Global Technology. DB Global Technology is Deutsche Bank's technology centre in Central and Eastern Europe. It develops cutting-edge software applications for the Deutsche Bank's global operations and represents a platform for highly skilled software engineers. The team members specialize in Software Application Development, IT Architecture, Quality Assurance and Testing, Functional/Business Analysis and Project Management. Opened in January 2014, the Bucharest office is constantly expanding. So far, it has delivered more than 170 projects with global impact,  more than 250 releases integrated in the bank's award-winning mobile banking applications and trading systems.
This award recognizes novel, innovation and research driven strategies, developed in/for Romania. The category is meant to cover the many developments related to the introduction of new products, services or campaigns, and the roll-out of R&D oriented investments.
Why attend the Business Review Awards Gala:
INVEST IN YOURSELF – Witness inspirational initiatives, programs and companies and meet the people behind these successful accomplishments

NETWORK – 250+ influential top executives, active investors, successful entrepreneurs, officials and diplomats

GET INSPIRED – a truly special evening in the company of  like-minded Individuals that aim to create value for businesses, for people, for Romania