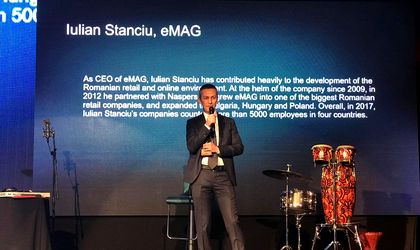 The Entrepreneur of the Year award was handed out in tonight's BR Awards Gala by Mr. Alexandru Geamănu & Laurentiu Banescu, Co-founders, Fabrica de Bere Bună (Zăganu), last year's winners in the same category.
Winner: Iulian Stanciu –  CEO eMAG, for his outstanding entrepreneurial spirit and commitment to supporting local entrepreneurs through the development of the eMAG Marketplace platform
Stanciu said: "Thank you Business Review for inviting me, I think it's been eight years since the first event I went to. I started my first business 20 years ago, so we're the same age. BR gave me the first award – it was a lucky one. We are living interesting times, we are in front of a new revolution – the digital revolution. I think we need to prepare better as companies, as individuals as well as governments and public authorities. Romania has a lot of talent and we can use it to catch up with the digital revolution and become the best in a few years."
As CEO of eMAG, Iulian Stanciu has contributed heavily to the development of the Romanian retail and online environment. At the helm of the company since 2009, in 2012 he partnered with Naspers and grew eMAG into one of the biggest Romanian retail companies, and expanded to Bulgaria, Hungary and Poland. Overall, Iulian Stanciu's companies have more than 5000 employees in four countries.
eMAG was also the winner in the Excellence in Business category, for their strategies to increase the efficiency, reliability and sustainability of the company and their support for small Romanian entrepreneurs.
Want to know who else was nominated? See the shortlist.