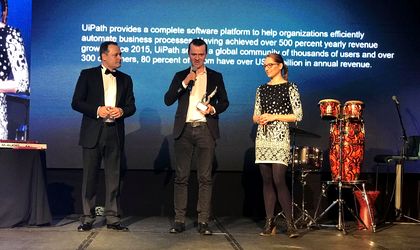 The Commitment to Innovation in Technology award was handed out in tonight's BR Awards Gala by Marius Ghenea, this year's Jury President and Partner at 3TS Capital.
Winner: UiPath, for their software platform which helps organizations automate business processes
The award was picked up by Marius Istrate, People Operations Manager at UiPath: "We never dreamed we'd built a company that will go so high, we simply wanted to build a great product. It's time to tell Romanians to stay, stay, stay, and to tell Romanians abroad to come back, come back, come back. Companies tonight are proving that there are reasons to work in Romania, and UiPath is one of these examples. I would like to make an official announcement: we are offering our technologies to the NGOs in the shortlist for these awards for free, so that they can improve the way they operate."
UiPath provides a complete software platform to help organizations efficiently automate business processes. Having achieved over 500 percent yearly revenue growth since 2015, UiPath serves a global community of thousands of users and over 300 customers, 80 percent of whom have over USD 1 billion in annual revenue.
Want to know who else was nominated? See the shortlist.