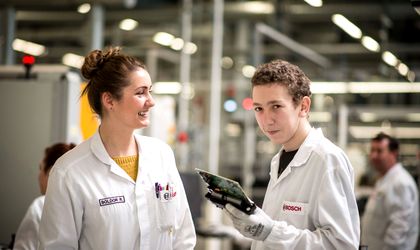 German car parts maker Bosch has announced the opening of the new school year in the dual education system, in which 80 pupils are enrolled. Also, the company's management put the first basis of the new Multifunctional Center Bosch, which will be opened next year.
The production unit Bosch from Cluj builds a Multifunctional Center dedicated to the pupils receiving training in the dual education program. Moreover, it will comprise rooms for talented students training and for the continuous development of the employees and new laboratories for the R7D department.
"Bosch group in Romania is a trustworthy partner of the local schools within the dual educational system project, starting 2013, " said Mihai Boldijar, general director of Robert Bosch SRL.
"This year over 80 high school and professional schools pupils prepare themselves for their careers as electro- magnetic and electronics technicians in the production units from Blaj and Cluj," added Boldijar.
The dual educational system allows pupils to apply their theoretical knowledge from school, as their activity from the factory is based on the educational plan of the school that they come from.
"We believe that the experience of the dual school Bosch is a success because of the interested and studious pupils, of the attentive and committed professors as well as the openness of our employees," said Konrad Kaschek, the manager of Bosch factory from Cluj.
Georgiana Bendre