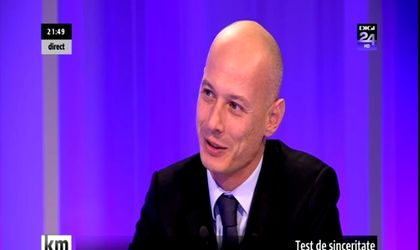 The deputy governor of the National Bank Romania, Bogdan Olteanu, was placed on house arrest, following a decision taken on Friday by judges at Romania's High Court.
Olteanu, who is accused on influence peddling in a political corruption case, said he will resign from the BNR so as not to tarnish the image of the central bank.
"It is a hard moment, a sad moment and a sad period. I hope it will all be over very soon. I want to be acquitted as fast as possible so I can return to my normal life. Until then, I will do what the honor and respect for this institution asks me do, which is to swiftly resign from the management of the BNR and support my case in justice," Olteanu told journalists, after leaving the arrest unit of the Bucharest Police. Previously, the lawyer of Olteanu said that the BNR official would resign on Monday.
The BNR said that the duties of Olteanu would be taken over by the other executives at the bank.
Investigators had asked for the preventive arrest of Olteanu, who was detained for 24 hours.
Anti-graft prosecutors said that Olteanu received a EUR 1 million bribe and political campaign services from controversial businessman Sorin Ovidiu Vintu, who is currently serving a jail sentence of 6 years and two months in a separate case.
Vintu gave the money in 2008 to secure the appointment of Liviu Mihaiu as governor of the Danube Delta, an area where the businessman had some development plans. At that time, Olteanu was the president of the Romanian Chamber of Deputies.
According to prosecutors, the bribe was transferred from a Cyprus-based account to a Bulgarian account of a firm registered in the US. Olteanu got the EUR 1 million in cash from an intermediary.
In the same year, Olteanu received political campaign services worth tens of thousands of euros for which he did not pay a dime. The services were provided based on orders issued by Vintu.
In 2008, Olteanu got a mandate as MP, being a member of the PNL.
Ovidiu Posirca