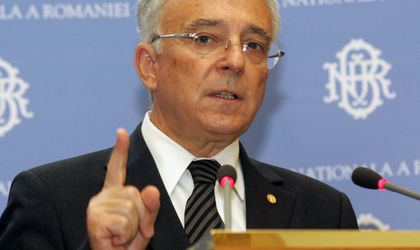 Romania's economy is already growing above its potential based on consumption and, in the case in which it is receives additional stimulus, this will lead to the creation of jobs abroad, says the governor of National Bank of Romania (BNR), Mugur Isarescu.
He mentioned on Monday within the presentation conference of quarterly report over the inflation the issues that the Romanian economy is facing at this moment, taking into account that BNR was blamed in the public space of missing the inflation target.
"Which is the real situation in Romania? Regarding the GDP deviation, we passed to overdemand from demand deficit. And it can be observed from where! It's observed in the trade balance. If we stimulate the demand, including through interest decrease, or other stimulation methods of the demand, we'll just create workplaces only abroad. We'll not stimulate the domestic economy because it is already oversaturated," said Isarescu, according to Agerpres.
Moreover, he mentioned that there's a tendency of  tension on the labor market and "only those who don't live in this economy" cannot see that.
"The productivity gains are net inferior to the salary dynamics," added Isarescu.
At the same time he says that the trust in economy is getting close certainly to the level from 2008, when it was confirmed that the economy is overheated.
"Even if economists have great difficulties in forecasting the future, about the past I think we are clear: in 2007-2008 the economy was overheated. Now the trust in economy is lower than in 2008, but it's clear that we are heading there. We have a strong expansion of the consumption, which brought a significant increase of the imports. Once again, we are starting to consume from abroad, " concluded Isarescu.
Georgiana Bendre