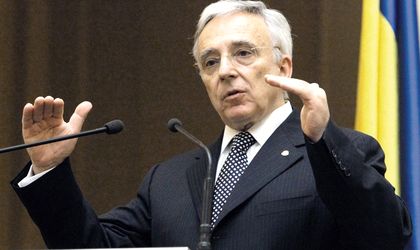 The National Bank of Romania (BNR) has made a downward revision to 1.7 percent of the inflation forecast at the end of 2017, with 0.4 percentage points, said on Thursday the governor of the central bank, Mugur Isarescu, in a press conference at the presentation of quarterly report on the inflation.
For the end of next year, BNR estimates an inflation rate of 3.4 percent, by 0.2 percentage points over the previous forecast, the target being 2.5 percent, with +/-1 percentage point.
According to Isarescu, the annual inflation rate was relatively stable during the last quarter of 2016.
He added that the loans demand remained solid in RON, but had an attenuation that seem to be in correlation with the "non-uniform development of Prima Casa program".
The institution announced on Tuesday is a press release that the annual inflation rate might become positive in the first quarter of this year, due to an end of the impact of VAT reduction to 20 percent.
According to the release, the forecasted level of the annual inflation rate keeps to increase and the afterwards increase is relatively slower, mainly due to deflation shocks on the offer during November 2016-February 2017. These imply the drop in RCA policies tariffs and the elimination of non-fiscal taxes, whose effects join the reduction to 19 percent of the standard quota of VAT and the elimination of over-excises to fuels starting January 1, says the release.
Georgiana Bendre