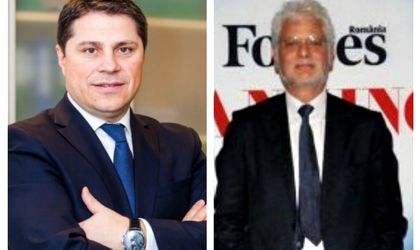 The deputy general directors of Intesa Sanpolo Bank, Florin Sandor and Paolo Trifiletti have received the approval of National Bank of Romania (BNR) to get additional roles as a result of the bank's strategy to focus on the business development of the corporate and SME segments.
Sandor is a lawyer with a wide experience is legal and business consultancy, who joined the management team Sanpaolo Bank in 2014, as deputy general director and has new responsibilities being named also head of corporate and SME division. He will coordinate and supervise the activity of corporate department, SME department, banking product and administration office department, pricing and CRM.
Trifiletti joined the Intesa Sanpolo Bank team in 2015 as deputy general director, after over 20 years in corporate banking and analysis and loans office.
"I trust the current management team and I am convinced that its members have the necessary capabilities to put into practice the most suitable measures and actions to reach the established objectives by our majority shareholder, Intesa Sanpaolo group, " said Marco Capellini, general director of Intesa Sanpaolo Bank Romania.
Currently, Intesa Sanpaolo Bank's strategy is to support the Romanian and foreign entrepreneurs with growth potential, offering the services of investment banking field through the investment bank IMI Bank and the ones of the factoring company Mediocredito, such as consultancy and treasury products.