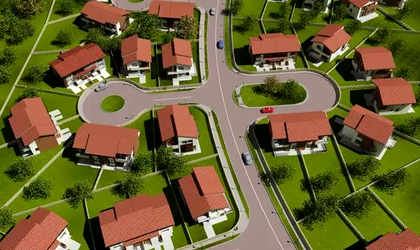 Insolvency administrator firm EuroInsol sold the last 272 houses of Green City, the residential project of Dumitru Bucsaru's bankrupt company built in 1 December locality near Bucharest. The buyer is Blue Spot, part of Hoshen Holdings group of companies, owned by Isaac Cohen-Hoshen, an Israeli businessman, co-founder of Adama.
Blue Spot payed around EUR 7.9 million for the houses, at an average price of around EUR 29,000 per unit.
Green City residential complex was developed by businessman Dumitru Bucararu on a 120-hectare plot, part of the royal domain, in the 1 Decembrie locality in Ilfov County.
Over 600 villas have been built in three different types: Sena (with 4 rooms and a usable area of ​​108 sqm), Neva (with 4 rooms and a useful area of ​​118 sqm, still on sale for EUR 97,000 per unit) and Tamisa (5-6 rooms and a useful area of ​​120 sqm).
The development of the project started in 2008, and Green City included 600 homes.