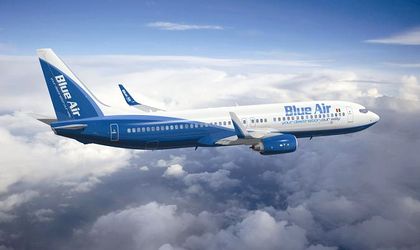 Blue Air, the largest Romanian air carrier with Romanian capital, announced plans to purchase six Boeing 737 MAX 8 planes at a cost of over USD 600 million and lease other 12 aircraft.
The announcement was made in Paris, at the Paris Air Show 2017, the biggest event of the industry.
Moreover, company representatives said they would lease other 12 planes, respectively six Boeing 737 MAX 8 and six 737-800 Next Generation from Air Lease Corporation.
"The orders will be concluded in the second semester of 2019," Tudor Constantinescu, Blue Air commercial manager told Ziarul Financiar at the event. "We will purchase six Boeing 737 MAX aircraft and reserve the right to buy other two, under the same contractual terms," Constantinescu explained.
The cost of the six planes stands at over USD 600 million and will be paid in leasing.
"The catalog prices for the six amount to USD 600 million. Right now we do not have any bank loan. The eight planes purchased will be paid by means of leasing. All we know is that the deposit was already paid from the company money," Gheorghe Racaru, Blue Air general manager said.