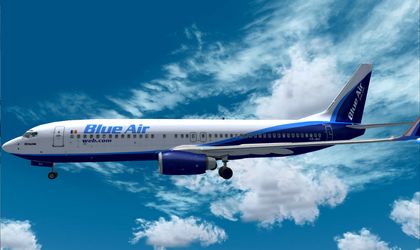 Blue Air will be launching a new route from Cluj-Napoca to Birmingham in December, with a frequency of three flights per week, the air carrier informs.
The company had announced earlier in the year it will have four charter routes from Timisoara this year and this flight from Cluj-Napoca will be the sixth direct route to Birmingham, the second largest city in the UK.
"We are very happy to develop our presence on the Cluj-Napoca Airport by opening direct flights to Birmingham. Following a recent visit to Cluj-Napoca and at the request of airports, we decided to capitalize on this opportunity to Birmingham – an attractive destination both for tourists and business. Our commitment to the market in Transylvania is emphasized by the fact that this fall Cluj-Napoca will become the sixth airport where we establish an operational base," said George Racaru, general manager of Blue Air.
For this year, the company estimates a 50 percent increase in traffic over the previous year to a total of 3.2 million passengers. By the end of June, Blue Air will operate a fleet of 28 Boeing 737 aircrafts.
Blue Air is a Romanian owned hybrid airline operating regular destinations and occasional charters.
Natalia Martian