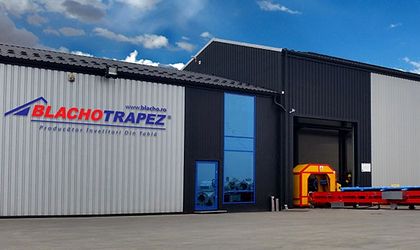 Blachotrapez, one of the most important Polish companies of metallic rooftops, opens this year a new production hall at Baia Mare, following an investment of EUR 800,000, near the existent factory.
"We registered a constant growth of sales from Romania and the expansion of production represents a natural step in the context in which the entire rooftops systems is in expansion. The new production hall will be finished next year and will mean new work places and a more than double production capacity," said Jaroslaw Turczynski, CEO Blachotrapez Romania.
Blachotrapez entered the Romanian market in 2010 and produces metallic bricks and roof accessories, using raw material from ThyssenKrupp and has an annual production capacity of 3 million sqm. Blachotrapez represents the biggest investment with Polish capital from Maramures area.
The company closed 2016 with a turnover of EUR 10.5 million, a growth by 35 percent compared with 2015, according to profit.ro.