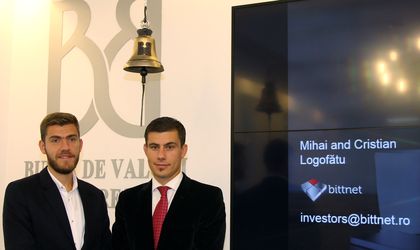 Bittnet reported an estimated 36 percent year-on-year increase in turnover in 2016. Moreover, the company increased its capitalization almost threefold, from RON 7.7 million to 21.4 million.
The company's revenues from IT training exceeded EUR 1.2 million. With 2,500 students in 2016, the company reconfirmed its position of leader on the market, according to a report published by the company on the website of the Bucharest Stock Exchange (BVB).
"The most important thing for us in 2016 was that we managed to mark the transition towards a medium-sized company, which managed to grow and to develop constantly on solid business principles. We value an organizational culture based on values such as honesty, transparency and flexibility, in conditions of performance and competency and are enjoying partnerships with important players on the market," Mihai Logofatu, Bittnet CEO said.
Bittnet's expertise in the IT was consolidated through important certificates, such as the Cisco Learning Partner, Microsoft Silver Learning Partner, Amazon Web Services Learning Partner, or Oracle Authorized Education Center. Since its creation, the company trained over 15,000 people, totaling over 50,000 hours of training. At the same time, in 2016 Bittnet renewed its partnerships with Microsoft, Amazon Web Sevices, APMG and Cisco, reaching the highest partnership level with the vendor, namely Cisco Certified Gold Partner on services integration area.
"We believe that also for 2017 the trends identified in the past two years – cloud, cybersecurity and integrated solutions will continue to be the source of growth of the business. We intend to focus our efforts and resources to be among the most relevant IT partners in these areas of expertise. Our attention will continue to focus on offering services with increased added value, such as consulting and cloud migration, ensuring the security of IT solutions in "managed services" regime, Cristian Logofatu, Bittnet CFO said on the company's plans for the future.
Georgeta Gheorghe