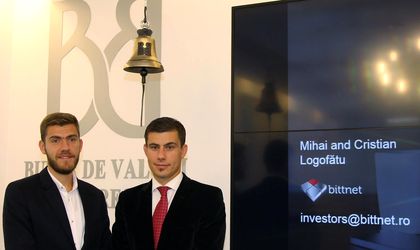 Bonds issued by the Romanian IT company Bittnet entered on September 28 on the AeRO market, being the fifth corporate bond listed on the Alternative Trading System of the Bucharest Stock Exchange (BVB), according to the institution.
The company raised RON 4.18 million in July, by selling 3-year maturity bonds at a fixed interest rate of 9 percent, paid quarterly.
"We are celebrating today a novelty: the first corporate bonds issued by a Romanian IT company. We believe in the stock market and we will use the tools offered by it for financing the development of our company whenever the opportunity appears. The current bonds issue, with a maturity of three years, is an ideal fit between the duration of a business development cycle and the availability of capital for this business development. We are delighted that so many investors are confident in our growth plans. We will continue to make every effort to achieve our ambitious
development goals. We will continue the growth plans witch had included us for the last two years in Deloitte Fast 50 InTech Top in EMEA,  said Cristian Logofatu, CFO at Bittnet.
"Bittnet obtained a regional recognition as a public company, and received an award at a Gala dedicated to the capital market in Central and Eastern Europe, which was held recently in Warsaw, where it was voted by an international jury. We are satisfied that the company continues taking advantage of being one of the leaders of the AeRO market as to professionalism and quality of management-which is proven by the new successful fundraising project, available from today to all investors active on the markets of Bucharest Stock Exchange," said Ludwik Sobolewski, CEO of BVB.
Bittnet was founded in 2007 by the brothers Mihai and Cristian Logofatu, who started with a small team of technicians. In 2011, the private investor Razvan Capaţina became a shareholder and in March 2015 the company attracted a new capital of EUR 150,000 by selling a part of the shares to the Polish investment fund Carpathia Capital.
Georgiana Bendre