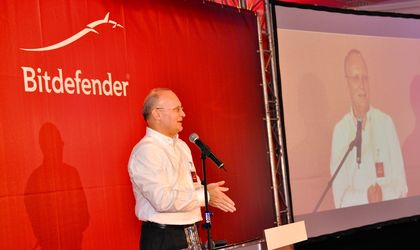 "Ten years ago, we as an industry were looking to Romania to become the India of Europe. Unfortunately, this has happened. I am saying unfortunately, because a country like Romania has a limited pool of software specialists and can never compare to India which 'releases' somewhere between 100,000-200,000 new IT specialists every year," explained Florin Talpes, CEO and founder of Bitdefender, during the ZF Digital event.
Nevertheless, the software industry in Romania is one of the fastest-growing branches of the economy, holding many ascension opportunities for IT specialists.
 "Whoever gets employed in a software company in Bucharest has the opportunity to gain EUR 1,000 within just a year. In how many industries can you say that?, said Florin Talpes, founder and CEO of Bitdefender, during the ZF Digital event.   
But Romania has missed out on innovation since what has developed in Romania was outsourcing and not intellectual property, said the Bitdefender founder.
 Global companies became interested in opening development centers here and having their R&D teams, but this has harmed the intellectual property in Romania- local companies have failed to make their own products and market them under their own brand, and taking them to a global level. 
 At the moment, there are around 100,000 people working in software and services in Romania (software development and outsourcing included).
 The potential in this field is very high and Romania has specialized in 'factories of software development.'
 Romanian IT faculties produce annually around 10,000 graduates, but not all those who work in IT have graduated from an IT-related faculty.
 "There are between 5,000-8,000 new employees a year which means that over the next five years, optimistically speaking, there will be between 40,000- 50,000 new employees in this industry," says Talpes.
 He said that "it takes about 2 weeks to shape a software specialist- if he/she is a genius." However, generally speaking, it takes between 2-4 years to shape one, and they need to have a good background in sciences.
 "I have never heard of unemployed people in the software industry. The market can absorb the entire labor force at this moment, so I think the 'factory' is under-sized. In the future, software will be everywhere, every technology will be using software," said Talpes.
Bitdefender has around 400 employees only in Romania. "The people we recruit are generally fresh graduates (…) I do not see the number of employees as a target. The target is not to have many employees but high productivity. In the software industry, there are productivity differences between people that can range from 1 to 30. The quantity is not important, quality is," he said.
What needs to change in Romanian companies is the mentality
 Local companies should always ask the question: "can we take this product abroad?," says the Bitdefender founder.  
 "Unfortunately, it is the local market that generally creates the offer, and here the required level of knowledge marketing is not very high. The difference compared to other markets is just huge. On the sales& marketing side, Romania is much behind other markets in shaping knowledge," explains Talpes.
 Nevertheless, Romania is a country with tradition in the IT industry.
 "In Romania, we had the first strategy related to the IT domain at the end of the 1960s. The basis of informatics were set then. The Pipera platform was a kind of Silicon Valley. Since then, laws have been passed but unfortunately they have not been implemented," he said.
 At the beginning of October, the National Council of Competition was founded, which will be led by Andreea Paul-Vass, the state counselor of the Prime Minister.
 The main target of the institution is to elaborate the National Competition Strategy Romania 2020.
 "The problem is that the players in innovation are not the greatest employers in the economy. I honestly think that Romania has a good potential because people still have a good background in mathematics which is an exceptional basis to turn them into researchers in science and innovation.
 Otilia Haraga