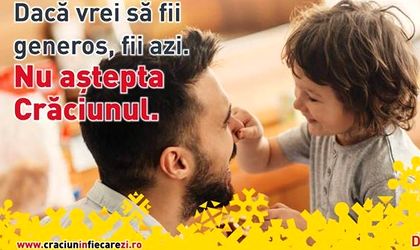 Found at an age when a child would start asking question, the Billa Basket, the main character in the TV spot of the most recent Billa image campaign, comes back as an observer of the human behavior, being exposed to typical winter holidays' situations such as the race for presents, the emotion of a human gesture or families' reunions.
Therefore, The Basket observes that due to the holidays, more than ever, the generosity and the kindness are found easier in each one of us and invites to introspection, through the questions addressed to the public. "Why do people wait all year long to be more human?", "Why is a special day needed to be together, to give presents, to be better, more generous?", "Why don't they do that every day?".
The campaign started with a teaser and is completed, starting  November 24 until the end of the year, with an integrated campaign with tactic components of  TV, radio, print, OOH, metro, online, Facebook and in-store.
Therefore, Billa hosts a promotional mechanism in which everybody wins. At every RON 150 spent the clients receive RON 10 free and the chance to win one of the big prizes representing three times the value of the shopping done during the holidays.
The in-store promotion is doubled by an online activation through the platform www.craciuninfiecarezi.ro, where everybody can send gifts and, the more they offer, the more they can win. Moreover, the person that has received the biggest number of donations wins instantly a special Christmas basket.
"The personalizing of the basket in an introspective observer is followed by more pragmatic activations that determine the public to be more generous, human, to redefine the normality in their advantage and to make space, little by little, every day, for the loved ones, for the dreams, for themselves. We shouldn't be our most valuable and private version of us only at the end of the year. The resolutions are made daily," said Raluca Mihaila, Billa representative.
The Billa Romania campaign is developed by Blind Carbon Copy Communication and Spoon Media.
Romanita Oprea