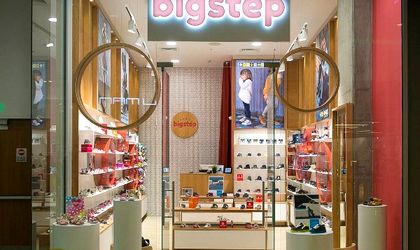 Bigstep, the Romanian retailer specializing in children's shoes, has opened its fifth store in Baneasa Shopping City. The launch was the first in the company's rebranding process and it involved an investment of EUR 80,000, including stock insurance, with over 450 models.
Launched in Cluj-Napoca in 2011, bigstep brings to the Romanian market children's shoes of the highest quality, adapted to each stage of child and adolescent development, being the sole distributor for internationally renowned brands.
In 2017, the company reported a turnover of approximately EUR 1 million, and estimates for 2018 are approaching EUR 1.2 million. Seven years after opening of their first store, bigstep is undergoing a rebranding process and has announced new investments for 2018 and 2019.
The Baneasa Shopping City center will be followed by the end of 2019 by three other openings – in Timisoara, Iasi and another outlet location. In parallel with local investments, the company is planning to expand on the international market in the next two years.
"The opening of bigstep in 2011 came as a response to a still unresolved need on the Romanian market, therefore probably the most important aspect in the development of the business was the choice of the producers we work with, for many of them being unique distributors on the local market. The growth rate recorded in recent years, as well as the know-how, stability and authority gained in the seven years of experience on the Romanian market were the main arguments for planned investments for the next two years, " Petrisor Vaida, bigstep founder, stated.