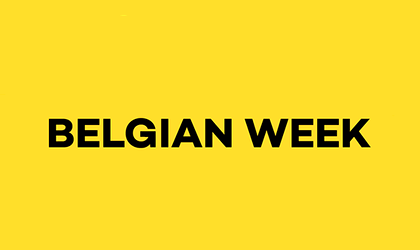 The Belgian Romanian Chamber of Commerce is proud to announce the sixth edition of The Belgian Week, taking place between April 22 and 25 at Hotel Crowne Plaza Bucharest. This year's edition is dedicated to the Belgian Real Estate players in Romania.
Multiple Belgian companies are active on a large scale on the Romanian market with the development of residential, logistic, industrial and commercial real estate projects. In this role, they are entitled to claim a prominent contribution in construction and related services by delivering premium quality facilities for private or entrepreneurial use, lifting standards of private and business accommodation.
Now is the perfect timing to put them in the center of our attention and invite all potential stakeholders, such as constructors, project managers, suppliers of building materials, architects & designers, service providers, potential buyers and tenants, and many more, to gain general and specific know-how on the Romanian real estate market and the features of Belgian key developers.
The formula of a Belgian week is 'unusual, as usual'. A balanced mix of thematic seminars, original networking occasions and facilities for private meetings form the perfect mix to make new bonds and create innovative business lines. Moreover, the whole period of the event will be – loyal to Belgian traditions – brightened up by exquisite Belgian food prepared with care by the famous elite Belgian cook Bernard Lescrinier, and afterwards permanently available on the Crown Plaza menu book. Various Belgian and other sponsoring brewers and distillers are providing refined wines, beers and liquors to relieve thirstiness.
The Belgian Week enjoys also for this edition the full support and participation of the Belgian Ambassador and his staff.  Likewise, representatives of the official Belgian foreign trade organisations FIT, AWEX and Invest-Export Brussels will be constantly available for advice and consultation.
On the last day, Wednesday April 25, the Crowne Plaza will host the Open Business afternoon for Belgian companies present on the local market. BEROCC members will enjoy free exhibition room, provided they confirm their presence. During a reception, these companies will present food and beverages with excellent and undiscovered flavors.
But no decent ending without a highlight, the reputed Gala Dinner scheduled on the same Wednesday evening and the largest yearly Belgian business and social event organized in Romania, expecting close to 250 guests. Once again, our Belgian Chef Bernard Lescrinier will supervise the kitchen and delight us with his famous gastronomic creations.
BEROCC, formerly BEROBA, is the officially accredited Belgian Romanian Chamber of Commerce. It operates as a professional business organisation focused on promoting the Belgian-Romanian trade and investment by supporting and defending the interests of our present and future members, while serving equally as an information and education platform for members and non-members about doing business in Romania and Belgium.
Click here to view the event on Facebook.