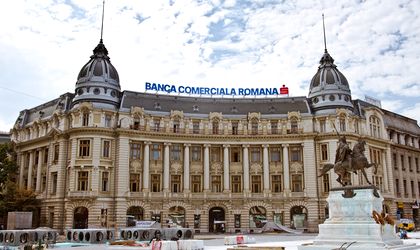 BCR, the biggest lender in Romania controlled by Austrian Erste Group, said its first quarter profit fell by 33.7 percent to RON 196.3 million (EUR 43.3 million), as the bank grappled with falling banking income and an ongoing process to reduce the non-performing loans book.
The operating result stood at RON 338.0 million (EUR 74.7 million), 2.3 percent higher than the previous year at RON 330.6 million (EUR 73.6 million), driven by lower operating income (on the back of continued NPL portfolio resolution and low interest rate environment) coupled with lower costs, according to the BCR.
On fresh lending in the retail segment, BCR said it granted RON 1.2 billion worth of new loans in Q1, despite Prima Casa slowdown due to new guarantee funds allocation only approved towards end March. In the corporate segment, the volume of new loans added on the balance sheet rose by RON 0.5 billion.
Loans and receivables to customers increased by 1.3 percent to RON 32.7 billion (EUR 7.1 billion). Deposits from customers were flat, up by 0.3 percent to RON 48.3 billion (EUR 10.6 billion) at 31 March 2017.
BCR said that customer deposits remained its main funding source, with the bank having a mix of funding sources that includes parent support. The bank added that it will continue to grant loans in the local currency.
Net interest income was down by 5.7 percent to RON 432.9 million (EUR 95.7 million), on the back of continued NPL portfolio resolution, efforts to price competitively in the market and a low interest rate environment.
Net fee income was down by 7.2 percent to RON 164.4 million (EUR 36.3 million) due to a regulatory driven decrease in interchange fee income coupled with lower transaction banking fees.
Net trading result decreased by 9.7 percent to RON 79.5 million (EUR 17.6 million) as a result of a negative effect from revaluation of FX participations.
The bank's operating income lost 6.1 percent to RON 691.1 million (EUR 152.8 million). BCR has cut its expenses by 13 percent to RON 353.1 million mainly due to methodology adjustments for booking contribution to deposit insurance fund.
In terms of net charge of impairments on financial assets not measured at fair value through profit and loss BCR recorded a charge of RON 3.3 million (EUR 0.7 million) in Q1 2017.
The NPL ratio further fell from 19.6 percent at the end of March 2016 to 11.3 percent at end-Q1 2017.
BCR's solvency rate stood at 21.2 percent as of February 2017.
The bank has a network of 513 retail units in Romania as well as 21 business centres and 23 mobile offices dedicated to companies. It also has about 2,600 units in its self-serving banking equipment network and 12,000 POS terminals for payments by card at merchants.