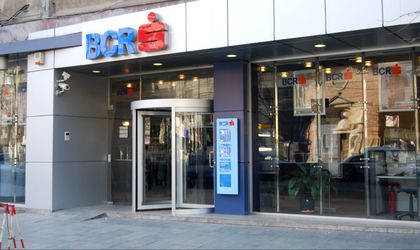 The net profit of BCR, the biggest lender in Romania controlled by Austrian Erste, fell by 51 percent to RON 559.8 million (EUR 123 million) in the first nine months of the year compared to the same period of last year.
BCR said the fall in profits was mainly due to base effect from substantial risk provision releases and from significant gain following the sale of certain stakes in the first three quarter of 2016. Both the net interest and fee incomes fell, while the net trading result gained 11. 2 percent to EUR 61.75 million.
The bank's operating result reached EUR 235.5 million, up 0.4 percent compared to last year due to lower operating expenses.
In the retail segment, BCR's portfolio of new loans stood at RON 4.1 billion driven mainly by demand for the Prima Casa program.  The net retail loans stock grew by 3.6 percent against December 2016.
On the corporate side, new volumes added on the balance sheet totaled RON 1.9 billion.
"The corporate book growth is further supported by a solid pipeline of better quality new business, with a shift from working capital loans towards more investment financing, net corporate loans stock advancing by 1.3 percent against December 2016," said the bank in a statement.
Deposits from customers decreased by 1.2 percent to RON 47.6 billion (EUR 10.3 billion) at the end of September 2017
In terms of net charge of impairments on financial assets not measured at fair value through profit and loss, BCR recorded a provision of RON 61.36 million (EUR 13.48 million). The ratio of non-performing loans fell from 13.3 percent at the end of September 2016 to 10.5 percent in September 2017.
BCR's solvency ratio stood at 23.1 percent as of August 2017, while its IFRS Tier 1+2 capital ratio amounted to 22.3 percent as of June 2017.