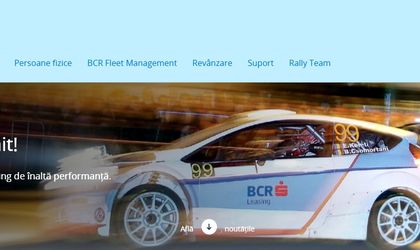 BCR Leasing IFN's financing went up by 42 pct in the first nine months of the year to EUR 171 million compared to the same period of last year. Out of the total result, EUR 20 million represented operational leasing. The increase was generated by the growth in sales for all the financing goods.
The best financing was for leasing cars segment, which increased by 66 percent, followed by light commercial vehicles (37 percent), heavy commercial vehicles (33 percent), as well as on the leasing segment for equipments (37 percent). BCR Leasing IFN registered a net profit of RON 25 million on nine months.
"We want to continue to respond to our financing needs of the companies from transports, logistics, industry, constructions and commerce, trying at the same time to encourage investments from the economically productive sectors (agriculture and industry) which need equipments of production and re-technology," said Bogdan Speteanu, general director BCR Leasing IFN.
The company's portfolio at the end of the reporting period was 82 percent auto financial leasing and 18 percent leasing for equipments and machinery. The auto and light commercial vehicles segment represented 33 percent of the total volume of company financing and the heavy commercial vehicles, 49 percent.
The value of financing for equipments grew by 37 percent compared with September 2015, the biggest volume being registered for industrial equipments, where the sales level grew by three times, while the financing for agriculture and constructions were similar with the last year.
BCR Fleet Management has renewed almost entirely the contracts at the end of the leasing period and aims to reach a total fleet of over 3,500 vehicles until the end of the year.
Georgiana Bendre