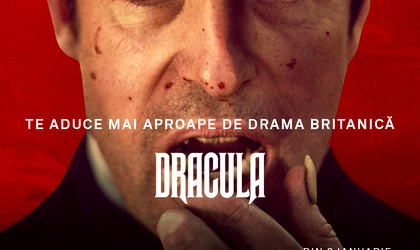 BBC Studios recently entered the Romanian homes, marking the first time when the premium British drama channel met the local aficionados of the genre. The channel, already available on Digi platform, offers access to the original, premium, and best-loved productions from UK, featuring an array of famous faces and created by award-winning talent.
The Romanian viewers passionate about premium British drama already enjoyed some of the most brilliant titles such as The Cleaner with BAFTA-winner Greg Davies or Chelsea Detective or Silent Witness, featuring Emilia Fox.
The BBC FIRST premieres in the spotlight
Dracula (starting 8th of January, 22:00, 3 episodes) 
"Dracula is a pure and joyous BELTER…Enjoy sinking your teeth into it all" – The Guardian
Bram Stoker's classic novel Dracula has inspired generations of filmmakers. Now the creators of the worldwide smash hit Sherlock give the legend a fresh blood! They bring a brand-new take on the most famous vampire of them all. Three feature length episodes introduce the world to Dracula, the vampire who made evil sexy. In Transylvania in 1897, the blood drinking Count is drawing his plans against Victorian London.
Trailer available here
Doctor Who (starting 11th of January, 18:00, 10 episodes)
"Likeable, funny, as brave as a lion, Whittaker's Doctor has ushered in a brave new era for the 55-year-old show" – The Telegraph
When the Thirteenth Doctor falls out of the sky, she's just in time to stop an alien huntsman who's stalking human prey. With the population of Sheffield (and Earth!) under threat, the Doctor recruits three new friends – gentle Ryan, no-nonsense Yasmin, and Ryan's step-grandfather Graham. And before long, this foursome feels more like family than companions. Full of energy, heart and adventure, Chris Chibnall's regenerated Doctor Who has been delighting fans old and new. Since Jodie Whittaker burst onto screens as the first ever female Doctor, this global phenomenon has won international acclaim, achieving stellar audience figures around the world. Meet the new Doctor. The universe just got more exciting.
Link to trailer here
Guilt (series 2, starting 20th of January, 22:30)
"A tremendous black-comedy thriller…it expertly mines an uncontrollable situation for dark laughs, while regularly hitting you with cracking plot twists" – Radio Times
The twisting and twisted, cool and compelling Scottish thriller is drenched in black humour and intrigue. Max's fatal decision to cover up a death led him behind bars. Now stepping out of prison on license, he finds his wife has left him, his brother Jake has flown to the States, he's out of work and his fate is in the shaky hands of an undercover police officer. She offers him freedom, at a high price: informing on his enemy, Roy Lynch. But are her reasons personal as well as professional? They are joined by Roy's daughter Erin, herself in desperate danger after shooting a drug dealer. The dark wit, duplicity, and dynamism of the first series made Guilt a genuine word-of-mouth smash, with record catch-up figures and a clutch of awards. This time things are even more dangerous. And even less predictable.
Guilt aired on both BBC Two and on BBC Scotland in 2019. To date, the joint commission has been watched by over 3 million people across the UK, with more than half a million of those in Scotland and was one of the top-three most-requested BBC Scotland titles on BBC iPlayer. Last year, Guilt was warmly received and critically acclaimed by media across the UK:
Link to trailer here
TIME (starting 26th of January, 22:30)
"It's going to draw you in from the beginning" – The Guardian
A powerful depiction of prison life, starring Emmy and BAFTA winner Sean Bean, and four-time BAFTA nominee Stephen Graham. Authored by Emmy and three-time BAFTA-winning writer Jimmy McGovern. Mark Cobden is a husband and father like any other. Except that he's responsible for the death of an innocent man. Tortured by visions of his victim, Mark welcomes his four-year sentence as penance for his crime. But in this brutal environment, a former teacher is an easy target for the more ruthless residents. Eric McNally is a dedicated prison officer, doing his best to protect those in his charge. And in an understaffed prison that's brimming with tension, the inmates' safety rests on a knife-edge. When a dangerous convict threatens to hurt someone Eric loves, this honest man faces an impossible choice. An inmate and an officer. Two ordinary men, both trapped by mistakes that any one of us could have made. It's a raw study of punishment and penitence, and a compelling showcase for two of Britain's best-loved actors.
Link to trailer here