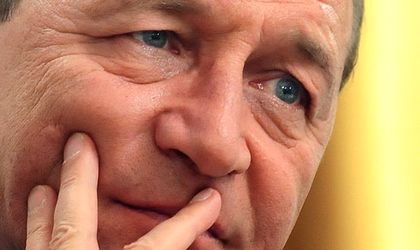 Former President Traian Basescu has vowed to publicly defend his daughter, who is prosecuted for incitement to abuse of office and money laundering. According to the politician, Ioana Basescu was wrongfully accused.
At the time of the alleged crimes were perpetrated, Traian Basescu was Romania's president. "I was performing the duties of president at that time (in 2009, editor's note). I have not dealt with the elections campaign or with anything else and I would not want to consider the whole file, because it seems to be a much larger file. I will limit myself, however, to defending my daughter in public. I had to swallow things once, when my brother's file was made (…) and when I saw the final ruling (…), only the evidence against him was considered, and not the one in favor. (…) I know the media effect (…) of what the National Anticorruption Directorate (DNA) communicated or let out through sources today," Basescu told B1 TV.
Basescu stressed that his daughter was not accused of having actually taken the money. "For instance, my daughter is accused of two counts (…) money laundering and incitement to money laundering. (…) It is not accused of having taken money from anybody. Let me tell you how things are with instigation. (Politicians, during campaigns, before the new law on financing the campaigns, were asking for sponsorship for their campaigns. Some would give money for the campaign, some wouldn't. Well, my daughter's request for money is caled instigation," the former president argued.
According to Basescu, his daughter Ioana received the money into her account from a private company. "She had at that time a friend who received some money in his account, from a company that is not accused of having given the money illegally, a private company. The money was spent the way the manager, the owner of the company, wanted. Because she was together with the owner of that company at the time, meaning they had been living together for a couple of years, and because my daughter – who was not a stakeholder – was telling him things about the campaign, he got involved in the campaign. What money laundering when the money comes from a company that sent it to her account? And it is even saying: this is the money, I sent it, the private company admits. What the owner did with the money became instigation by my daughter" Basescu explained.
Georgeta Gheorghe