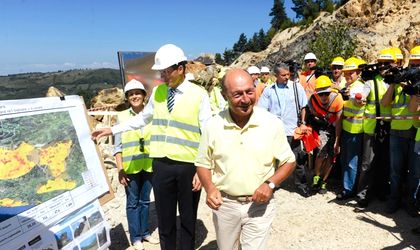 President Traian Basescu last week visited Rosia Montana in Alba County, the location where the Rosia Montana Gold Corporation (RMGC) intends to start mining for gold. Basescu said that it was time for Romania to exploit its gold, copper and silver resources with modern technological equipment, blaming "cowardly politicians" for eschewing the project, although the initial mining contract was signed in 1997.
Peter Eckstein-Kovacs, a presidential advisor who strongly opposes the mining project, submitted his resignation after Basescu expressed his support for the controversial project.      
Dragos Tanase, managing director of RMGC, the company that would be handling the mining operations, said that the first gold bars from Rosia Montana should be manufactured starting 2014-2015. A building permit for the mine is expected to be issued next year after which the construction of the mine complex should take around two and a half years.
However, Prime Minister Emil Boc has taken a more cautious stance. Boc believes that mining at Rosia Montana has major drawbacks and that the Romanian government should allow the Canadian mining project based only on the approval of specialists. Concerns have been raised regarding the environmental impact of the project and the low rate of revenue going to Romania, and commentators have called for certain terms to be renegotiated. Recent changes to the fiscal code will increase royalties for precious metals from 4 percent to 6 percent, also impacting the future exploitation at Rosia Montana.
Dozens of NGO supporters gathered the day after Basescu's comments at Cotroceni Palace, to protest against the president's support of the project. Basescu confronted the protestors, arguing that the Romanian state was not exploiting its resources, as was the case in the communist bloc. He added that it was in the public interest to exploit mineral resources in order to create jobs.
Laszlo Borbely, the minister of the environment and forestry, has called the Rosia Montana project a priority. He added that the total mineral deposit contains approximately 300 tons of gold and 1,600 tons of silver. Borbely wants to gauge the impact of the gold-extracting process, which involves cyanide, on the environment, before issuing a critical permit for the project.
 
Gabriel Resources, which has an 80.46 percent stake in RMGC, the company assigned to carry out the project in Rosia Montana, saw its shares gain 11 percent this week, their biggest jump since last November, to CAD 7.44 (Canadian dollars).
Romania owns a 19.31 stake through Minvest Deva, while other investors hold 0.23 percent.
Ovidiu Posirca