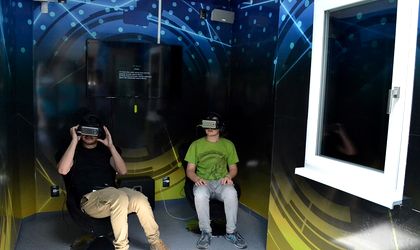 Barrier, maker of thermo-insulating carpentry products, developed the Barrier Test Mobil project, the first Virtual Reality showroom in Romania. The project offers a 20 square meters Mobile Interactive Showroom, where those interested can interact with Barrier products, and, at the same time, participate in a 3D virtual reality inside a truck designed for this purpose.
"Barrier is the optimum solution for varied customized projects of thermo-insulating carpentry that covers all the needs of the house (…) Barrier brings for the first time in Romania the first mobil showroom and we invite you to test our top products by means of an innovative virtual experience. (…) A team of 200 people will travel over 2,930 kilometers in 5 months to be closer to customers, to see what they want and to facilitate their interaction with our products. We thank our partners from Discovery, Top Booking and Kaufland for hosting us," Adrian Gramacea, Electric Plus General Director, which owns the Barrier brand.
Barrier invested over EUR 150,000 in this campaign. The project, developed în partnership with Discovery and Top Booking debuted in Cluj on 26 May and will travel to 16 cities across Romania, spending three days in each of them.