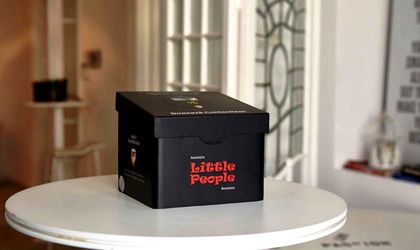 Banca Transilvania has launched a contactless donations option through dedicated POS boxes. As a first in Romania, it encourages solidarity and social involvement and with the help of the community, the Little People Association and the foundation Cluj has a Soul can help many sick young children that come from modest social environments.
The Bank will initially install 40 donation POSs in as many BT headquarters in the country, plus those of the Little People Association's affiliated to various merchants. The amount that can be donated is RON 5 with the contactless card issued by any bank or one of the payment accessories in the BT Pay collection: the same name, the sticker, the bracelet or the contactless clock. Donation POSs are provided by Ropeco.
"With the opportunity to donate contactlessly with dedicated POS terminals, we offer a modern alternative to a traditional custom, the donation. As part of the community, we are glad to bring technology into social projects as well. We called these special POS devices because we want to help children and young people together to have a better life", says Omer Tetik, general manager of Banca Transilvania.
"Banca Transilvania has been by our side since the first months of the association's activity. We are glad that the idea of ​​donations has turned into reality shortly. Little People is the first organization in Romania to provide services and access to technologies for actions that have a significant impact on the lives of children affected by cancer", says Shajjad Rizvi, founder and president of Little People Romania.
Cluj has a Soul is the largest social involvement project of Banca Transilvania. Through it, more than 2,000 young people have been supported in 11 years to learn their potential, to finish their studies, to (re)qualify and to find a job. In 2017, more than 20 teenagers helped by Cluj has a Soul passed the baccalaureate and half of them got marks over 8 at the exams.
The foundation is funded by BT, and through POS and donation boxes at its headquarters in Cluj-Napoca, the bank wants to involve as many people as possible in the community. The Little People Association helps children and teenagers with cancer from 10 oncology departments in Romania and the Republic of Moldova. Their contribution is essential, through psycho-social support programmes, voluntary activities, as well as for the renovation and endowment of some hospitals. Every year, thanks to this association, over 2,000 children and young people learn to say "I'm not afraid!"
RON 23.11 million was the contribution of Banca Transilvania in 2017 for social engagement and social responsibility activities.