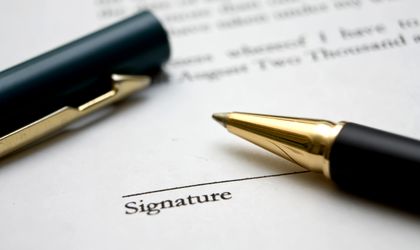 Banca Transilvania and EximBank concluded the agreement "SMEs guarantee ceiling", which facilitates the access of clients to Banca Transilvania financing.
The scheme provides with solutions those entrepreneurs who do not have sufficient assets to fund current activities or investments and thus do not qualify for bank loans.
Following the agreement, Banca Transilvania has a RON 40 million guarantee ceiling, executed through EximBank. Individual guarantees are provided in RON and are designed for investment credits, loans to support current activities and bank guarantee letters.
Banca Transilvania clients can opt for loan solutions with a maximum maturity of five years for investment credits of up to 12 months for current activity credits or upt to 24 months in case of bank guarantee letters.
Individual guarantees have a maximum amount of RON 1.5 million lei, and the duration is correlated with that of the SME loan. The guaranteed percentage is up to 80 percent in the case of investment credits, up to 70 percent in the case of loans to support the current activity. The percentage is still up to 70 percent including for bank guarantee letters.
Banca Transilvania has over 200,000 active SME customers. BT supports Romanian entrepreneurs through specific financing solutions and partnership facilities, such as EximBank.