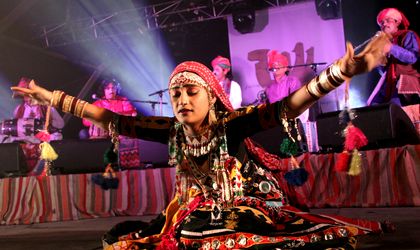 The sixth edition of Balkanik Festival will return to Bucharest on September 9, 10 and 11, for a three-day event, with a lineup for Balkans and Arab world lovers.
The festival will take place in the historic Uranus Garden in Bucharest, located in the last-standing old neighborhoods of Bucharest.
The headliners on the main stage of Balkanik Festival are Band of Gypsies, meaning Taraf de Haidouks, a successful Gypsy band in the world (from Clejani village, Romania), and brass band Kocani Orkestar (Macedonia). The new playlist has been written and arranged for a 26-musician orchestra and explores the contrasts between the intensities of each band. The violins, cimbaloms and accordions of Taraf de Haidouks will join the trumpets and percussion of the Kocani Orkestar. The show will gather musical elements from the Balkans, Romania, Macedonia, Serbia, Bulgaria, Turkey, and the Orient.
Omar Souleyman, the Syrian singer, will also headline the festival. Omar  "was a prolific wedding singer with more than 500 live albums to his name before civil war broke out in Syria in 2011. He continued to write songs of love and positivity as a welcome distraction from the horrors of war and in the process found himself something of a star in the west." (The Guardian)
Souleyman performed at the Nobel Peace Award Ceremony in 2013 and had various collaborations with Western artists, like Bjork (for her album Biophilia) and Dan Snaith aka Caribou. "My music is from the community I come from – the Kurdish, the Ashuris, the Arabic, they're all in this community. Even Turkish because it's so near, it's just across the border. And even Iraqi." (Omar Souleyman)
Bollywood Masala Orchestra will bring the original Indian Gypsies' music, dances and a theatrical show.
Antwerp Gypsy-Ska Orkestra, Cumbuș Cemaat and Orange Blossom are the bands that combine traditional music from Turkey, Egypt and the Balkans with electronic, ska and contemporary sounds.
Further festival acts, interactive sound installations, learning events and music workshops will be announced soon.
Georgiana Bendre