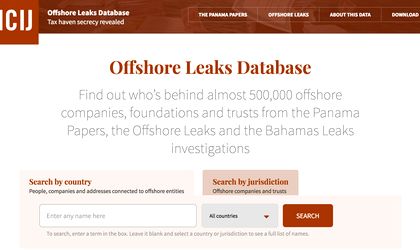 The names of Romanian and international companies as well as of local businesspeople and international investors have appeared in the new global tax scandal called #BahamasLeaks. The data about the offshore accounts in Bahamas were obtained by Süddeutsche Zeitung and were processed by the International Consortium for Investigative Journalists in partnership with RISE Project.
For instance, the leak includes data about on offshore company of Rompetrol Group. From 1999 to 2011, Rompetrol Upstream International LTD, ex-Lumbaqui Oil LTD, from the Bahamas had 13 executive directors.
Among them there was Radu Mihail, the honorary consul of Romania in Ecuador, who became the executive director of this offshore in 2011. He said that he had business relations with Romanian businessman Dinu Patriciu, who passed away, and that he did not have an executive role in this company. Another director of this offshore in the 2001-2002 period was Sorin Marin, former shareholder of Rompetrol and a friend of Patriciu. Marin said that his name emerges in the boards in several companies and that he has never travelled to Ecuador and Bahamas.
Rompetrol said in a statement that it had an offshore in Bahamas that was closed in 2012, but the company did not refer to the one mention in the leak.
In a separate case, US oil major Exxon funneled funds through its offshore in Bahamas to finance the exploration activities in the Black Sea. The company is looking for hydrocarbon resources in the Black Sea in partnership with Austrian OMV Petrom.
One of the vice president of Exxon's offshore is Romanian Alin Stirbu.
The journalists have also provided data about Medicarom, which sells medical products such as syringes but also specialized software. The group registered a turnover of EUR 45 million last year.
The majority shareholder of Medicarom remains unknown, hidden behind a company in the British Virgin Islands, but two of the minority shareholders are Langton Industrial Holdings and Wellington Property Holdings.
Michael Danny Topolinsky, the owner of real estate group Benevo, which has several projects in Romania told the journalists at Rise Project that he has an offshore in Bahamas, because a lot of business people from Northern America do to same. In the leaked papers, Topolinsky appears as the director of Topo Holdings INC.
Ovidiu Posirca