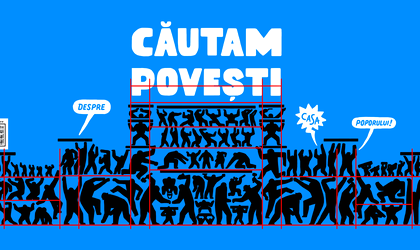 A new project that investigates the oral history of the building of Casa Poporului, initiated by the visual artist Calin Dan, in collaboration with Celia Ghyka, as a new episode of his long-term artistic research, Arhitectura Emotionala (The Emotional Architecture), will be laiunched on November 17. Its the exhibition "Autorul Colectiv" (Collective Author) at the A5 Studio Space on Piata Amzei street.
Starting from the assumption that the big architectural ensembles are the result of a common effort, the Collective Author proposes itself to identify the direct participants at designing and creating Casa Poporului and registering their memories, invited to tell the experiences in front of the filming camera. Accompanied by the collection of a documentary body that refers to the urban, social and architecture meaning of the House, the project proposes to reoffer to the thousands of people that worked in the site on the Spirii hill in the '80s the right of symbolic ownership over this edifice.
Using the video-interview artistic methods, the project explores the role of the collective authorial in producing the big dimension architecture. Starting from the reality of its building and designing, that are collective acts and not only author projects of some architect or group of architects, the project wants to regain part of the city's memory and to build a social history of the production of public architecture.
Presenting a documentation that took place in the last six months, the exhibition "Collective Author" marks the beginning of a long-term project that wants to create an interdisciplinary framework for creating a data base with interviews that want to concentrate over the personal experiences of those interviewed. Those who are selected on the basis of some socio-professional criteria meant to reflect the structure of the personnel involved in creating the building, from designing to different phase and execution competences.
The exhibition will be followed by a public debate-conference with international participation that will take place on November 22, at Casa Mincu, The Chamber of Architects in Romania office.
The Facebook event is here. You can watch The Collective Author here.
Authors: Calin Dan, Celia Ghyka
Image Director: Daniel Constantinescu
The team: Iris Opris (communication and social media), Razvan Tun (web design), Sorina Vasilescu  (illustrations, publication), Andrei Suhan (production).
A project of the Urban Transition Association (ATU) (http://atu.org.ro)
Partners: OAR (The Chamber of Architects in Romania), UAP (The Plastic Artists Union)
Media partners: Zeppelin magazine, Arhitectura magazine
A cultural project co-financed by the Administration of the National Cultural Found.
Romanita Oprea