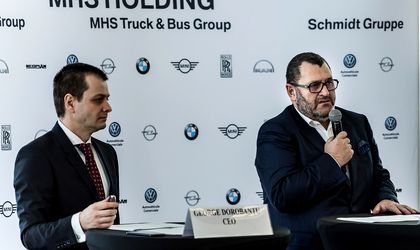 Automobile Bavaria Group, the biggest network of BMW dealerships in Central and Eastern Europe, said its turnover went over EUR 136 million in 2017, reporting a 15 percent increase in the volume of car deliveries to around 3,000 units.
At holding level, all the companies part of Automobile Bavaria group, MHS Truck & Bus and Schmidt Gruppe Deutschland recorded a combined turnover of over EUR 350 million.
Last year, the group's sales of BMWs reached over 1,500 units, while for MINI it got close to 300. The sales of used vehicles gained close to 33 percent in volume to 1,000 units. Deliveries of BMW Motorrad motorcycles stood at over 160. The biggest sales were recorded for the X3, X1 and X5 models.
Its service division handled 56,170 cars, up 8.8 percent year-on-year.
Michael Schmidt, president of Bavaria Group, said that the company plans new investments in the BMW dealership network this year.
"From a group perspective, we aim to continue our brand portfolio diversification strategy. At the end of March, we plan to inaugurate the Opel dealership in Targu Mures, and in the same time we are engaged in negotiations to bring other brands in our group," said Schmidt. In the premium car rental business, BMW aims to grow its local fleet to 140 units. Up to now, the company had invested EUR 3 million in 80 vehicles.
In the segment of electric cars, BMW recorded 106 sales under the i3 and i8 brand. The company also sold 43 plug-in hybrid cars. Last year, BMW opened two new dealerships for its electric-powered brand in Cluj and Timisoara. In addition, it sold 3 Rolls-Royce Phantom models locally through the dealership from Munich.
George Dorobantu, CEO of Automobile Bavaria Group, said that in 2018, the group aims to attract new brands in its portfolio and further invest in the dealerships' network.
"The increase of the market share for BMW and MINI brands, alongside investments in strategic projects, are part of the objectives for 2018. (…) We think that the used cars segment has significant growth potential in 2018, maintaining the trend from the previous years. The new premium market grows in line with expectations," said Dorobantu.
Automobile Bavaria Group has a network of 12 locations in Romania, employing 509 people. MHS Truck & Bus Group Romania, the main local distribution firm for MAN, ensures 355 jobs, reporting a turnover of EUR 90 million.