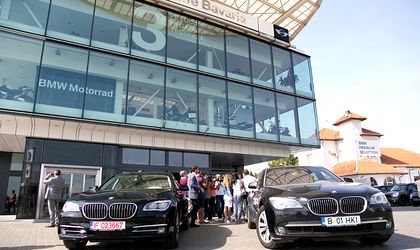 Automobile Bavaria Group posted an EUR 130 million turnover in 2016, representing a 39 percent year-on-year increase. The biggest network of BMW dealers in Central and Eastern Europe released its financial results for the year at a press conference that also saw the delivery of the brand new bus the Bucharest National Theatre (TNB) will use on tour.
In 2016 the sale of new cars went up by 33 percent and the sale of Mini by 37 percent, respectively. The Group reported that the biggest sale increase was recorded by the segment of second hand cars, namely 39 percent, most of which were BMW.
Specifically, the Automobile Bavaria Group network sold in Romania 1,769 new BMW cars, 202 Mini cars, 120 BMW Motorrad motorcycles and 784 second hand cars. The most popular MBW models were X5 (328 units sold), Series 3 (254), X1 (227), X3 (215), Series 5 (191) and X6 (162). With 147 units sold, Mini Hatchback was the most popular model, followed by Mini Countryman (40 units sold).
The electric cars segment saw a substantial increase in 2016, with sales standing at 37 units in 2016 (34 BMW i3 and 3 BMW i8). Sales in the second hand cars segment were dominated by the BMW Series 5 model, with 152 units sold, followed by the BMW X5 model (105 units), BMW Series 3 (101 units) and BMW X1 (75 units). The cars were sold via the BavariaUsedCars.com network.
2017 will see the arrival of the BMW Series 5 and the new Mini Countryman. "At the beginning of this year, the new BMW Series 5 and Mini Countryman will be launched in Romania. The BMW Series 6 and BMW Series 4 models, which will enter the market in spring 2017, will offer new attractive supplements for these models. We are awaiting with interest the presentation of the new BMW X3 model," said Michael Schmidt, Automobile Bavaria&MHS Truck&Bus Group at Tuesday's press conference. "With the launch of the new BMW Series 5 and of the new Mini Countryman, we are expecting an increase of sales for the two models in 2017," group officials forecast. 
The most exclusivist models delivered last year by Automobile Bavaria Group were three hybrid BMW i8 and a BMW Series 7 in anniversary limited edition – BMW Individual, which came at a cost of EUR 130,000 plus VAT.
Last year, Automobile Bavaria Group recorded a 13 percent increase of spare part sales and service. The gross revenue obtained from service increased with 10.6 percent and that from spare part sales by 13.6 percent. Overall, 54,000 cars were repaired in the 12 Automobile Bavaria Group points. Last year, the Group opened a new sales point in Bacau and one in Targu Mures.
Automobile Bavaria Group Romania operates 12 BMW dealers and 3 Mini dealers, as well as a Rolls-Royce service. The Group is the biggest car dealers network dedicated exclusively to one brand in Romania. Automobile Bavaria Group, MHS Truck & Bus Group and Schmidt Gruppe Deutschland are part of MHS Holding, managed by Michael Schmidt. The turnover of the three groups of companies increased in 2016 by EUR 64 million year-on-year, to EUR 374 million, with growth recorded across all segments. Automobile Bavaria has been present on the Romanian market for 23 years, when it introduced the BMW brand.
Georgeta Gheorghe