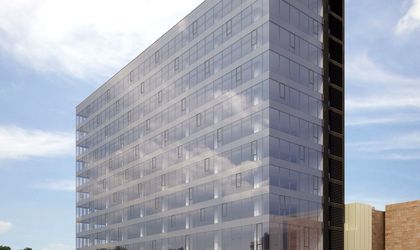 Iulius Group has announced a newly signed partnership with Autoliv Romania, subsidiary of Autoliv, Swedish manufacturer of automotive safety systems, regarding the leasing of approx. 5,100 sqm in the United Business Center 2 (UBC 2) class A office building within the Openville Timisoara mixed use ensemble, according to a company press release.
Through this partnership, "the Timisoara based engineering center of Autoliv Romania will consolidate its engineering operations," said Ionel Fierbinteanu, Country Manager of Autoliv Romania.
The new location of the Autoliv engineering center in Timisoara will be opened this autumn, once the fit out works for the UBC 2 office building – spanning 11 stories and a gross leasable area of 18,000 sqm – are completed, added the press release. This is the first of the seven office buildings that are currently being developed by the Iulius Group within the urban ensemble located in the vicinity of Iulius Mall Timisoara.
UBC 2 will observe LEED certification standards, and its being a mixed use ensemble means that employees will have access to parking facilities, shopping areas, restaurants, cafes, parks, etc.
Together with its partners and associates, Autoliv Inc. has around 64,000 employees worldwide and 80 operating facilities located in 27 countries. The company also has several technical centers and 20 crash testing facilities.
Autoliv has been operating on the Romanian market since 1997 and opened its Timisoara-based operations in 2006. The engineering center in the city, located on the Bega Canal, undertakes software development and testing operations for automotive safety systems, as well as radar, vision, and night vision, airbags and seatbelts.
Andreea Tint
Interested in the real estate market? Join Business Review's 15th edition of Realty – The Romanian Real Estate Market Forum. 
See the agenda here and book your place for June 16!