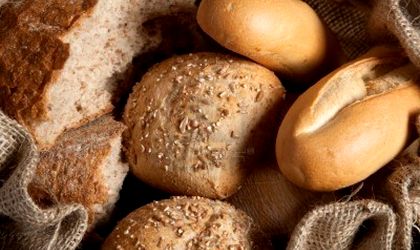 The price of bread will increase this month, due to higher costs for electricity and natural gas, as well as for raw materials and labor costs, say producers in the milling and bakery industry.
"We have received notifications from gas and electricity suppliers to inform us that they've raised tariffs by 25 percent. If a cigarette gets more expensive, then bread should get more expensive as well," said the president of the Romanian Employers in the Milling and Pastry Industry, ROMPAN, Aurel Popescu.
According to Popescu, if we take into account the price of a pretzel, the product with the highest increase in consumption, the increase from RON 1 leu to RON 1.5 per piece was a bit higher than it should have been.
10 million tons of wheat this year
Although Agriculture minister Petre Daea said that wheat production was 200,000 tons above the 10 million tons threshold, the head of ROMPAN thinks that Romania's wheat harvest this year is below 10 million tons.
"According to the data we have, from the member associations of OIPA (Romania's Interprofessional Organization of Cereals and Dairy Products), this year's wheat production in Romania is below 10 million tons. In any case, the wheat production of the current year is much higher than what we consume in Romania and this means about 5-6 million tons are available for export. But, because of the weather, the quality of the raw material  suffers, so more than 50 percent of the wheat harvest is affected. If we consider 50 percent as good wheat and 50 percent with poorer qualitative indices, it means that if we exported up to four million tons and we are still going to sell an additional 1.5 million tons abroad, and all the good raw material quality went to export, the weaker wheat stays in the country," said ROMPAN's leader.