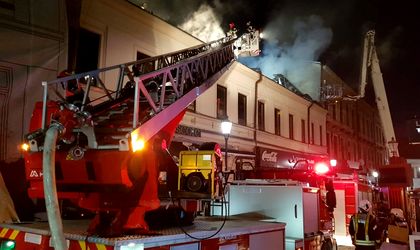 A fire broke in the early morning on Sunday in Bucharest's Old Center, a popular tourist area in the Romanian capital. The fire police intervened on the site using nine fire trucks. There are no injuries reported as the site, including bars and terraces in the nightlife hotspot have been evacuated.
According to representatives of the Romanian General Inspectorate for Emergency Situations (ISU), the fire was produced at the bridge and the roof of two buildings on Smardan Street, in Bucharest's historic center.
"We evacuated the people in the clubs, bars and living quarters in the vicinity of the area affected by the fire, and the risk of expanding to other spaces was significantly reduced," ISU representatives said.
According to Bucharest prefect Speranta Cliseru, 17 families living in the area have been evacuated. They will receive assistance, the official said.