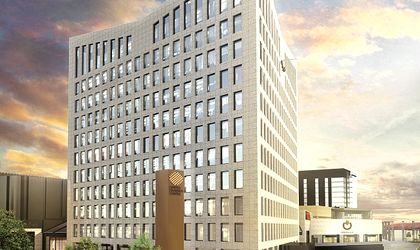 Iulius Company signed a partnership with the international IT solutions provider Atos for the lease of 6,000 sqm in the United Business Center 1 (UBC 1) A-class office building located in the Openville Timisoara complex.
The Atos team will do business in Openville Timişoara starting the third quarter of 2017, as the head offices will also be hosting the newest center for expertise in cyber security of the company.
The construction of the second A-class office building in Openville started in June 2016. UBC 1 will have 12 floors and a leasable area of 13,000 sqm.
Iulius is investing over EUR 220 million in the Openville Timisoara mixed-use project located near Iulius Mall, being the second mixed-use project in the company portfolio after Palas Iasi. The construction works were started in September 2015 with the construction works for the UBC 2 office building, which will be completed this year. The companies that have signed leasing contracts in this 18,000 sqm building include Ness Software Engineering Services, Autoliv Romania and the REGINA MARIA Polyclinic.
Openville will comprise a total built area of 594,000 sqm, and Iulius Mall Timisoara will be an integral part of it.
Atos SE (a European Company) is an operator in digital services, having annual revenues of approximately EUR 12 billion and around 100,000 employees in 72 countries. The company focuses on business technology that boosts development, helping the organizations anticipate the future.
Georgiana Bendre